Additional Comments
Please feel free to email Alexandria at foxyfilly254@aol.com or call 714-715-5956 for additional information.

IALHA Champion Caz is such an amazing horse. Caz does it all! English, Western, Trail, Jumping, Dresssage.....Caz is a dream horse! He has a wonderful personality. Caz has done it all. English, Western, Dressage, Trail, Youth, Beginner, and Amateur! He is a pleasure to work with. He is good for the farrier, clips, trailers ties ect.... (read more) The owner is only selling this amazing horse due to lack of time and funds to compete him. Caz in an incredible mover and would be great for someone who wanted to compete either in Jumping, Dressage or breed shows. Caz is also great over fences he is currently jumping over 3 foot with ease. Caz has a very smooth trot and canter! He is a pleasure to work with!
Possible on farm lease to own! We are offering payment and lease to own options for Cazador. Monthly payments plus pay for board and training. If you choose to make payments or lease to own, Caz will remain at Renaissance until he is fully paid for.
---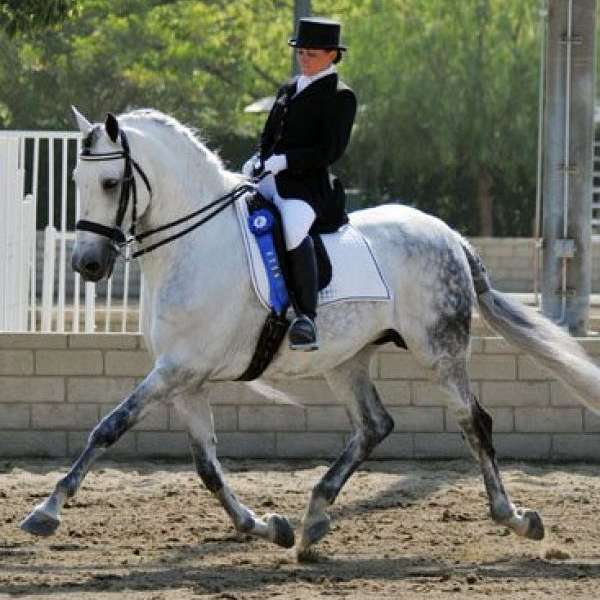 Baroque Equus
Dressage Training and Sale Horse services now located in New Braunfels Alexandria, head trainer at Baroque Equus and Former dressage rider and performer from: Medieval Times ~ http://www.medievaltimes.com/, The World Famous Lipizzaner Stallion Show ~ http://lipizzaner.com/, War Horse Productions ~ http://warhorse.com/, and Disneyland is now accepting dressage training horses and clients. Alexandria has had an extremely successful career inside and outside of the dressage court.... (read more) Alexandria has had the wonderful opportunity to be a dressage rider and performer for numerous world renowned companies such as "Medieval Times" and "The World Famous Lippizaner Stallion Show." She has also won numerous championships at ANCCE, PRE, IALHA, and IFSHA shows. Alexandria and Baroque Equus focus on clientele who are interested in learning classical dressage, as well as competing in USDF dressage shows, ANCCE, and Friesian shows. Please contact Alexandria regarding her training program. Services provided: Visit my FaceBook Page for photo's of horses for sale: https://www.facebook.com/AlexandriaBaroqueEquus Also visit my YouTube Channel for video's of sale horses. http://www.youtube.com/user/alicat254z?feature=mhee