Additional Comments
Spyder was born May 22, 2007. He can be registered with the KMA which all that needs to happen is the dna testing and check. Spyder is by Kiger Diamond Rio x Jesse Number 2. Spyder has had 6 months of professional training where he was given his basics and started on cows and reining exercises. While in training he was ridden extensively with cows, on trails, and in the arena. He has been ridden Western and English. He stands great for the farrier, vet, and baths.... (read more) Spyder has had clippers used on his bridle path and ears. He has been crossed tied, turned out with geldings, and extremely socialized. He is a very good and even tempered stallion. He has not bred a mare. Spyder stands 14.3, but is tipping 15. He is super easy to handle. He has been being worked towards endurance, but I am positive he can dominate many disciplines with the right person. Please contact me, Sarah for any further information @ 310-494-1866. I am open to offers on Spyder for a good home, and especially to someone who will use him. Due to this move and his need for a refresher week I am open to all offers and flexible. Spyder is going to make someone a heck of a horse. But I do need to sale him before I move. In saying that, that does not mean right away. He will not go to auction or any of that if not sold tomorrow. I just wanted to clarify that. I want a great home for him. More pictures are on facebook under his name Rio Spyder.
Shipping Notes
Buyer pays shipping
---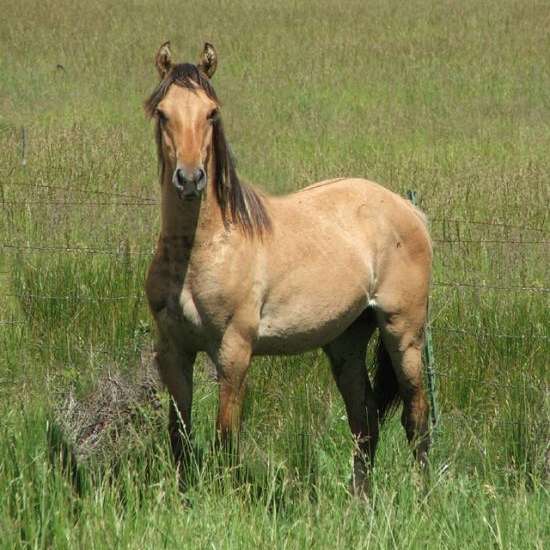 Canterbury Oaks Farm
Canterbury Oaks Farm welcomes all disciplines to enjoy a scenic ride over 25 acres of rolling hills in the heart of the Bluegrass. We are centrally located to downtown Paris, Lexington, the Ky Horse Park, Keeneland, and more. We have a new stallion prospect on the farm. We will be introducing him this summer to the show circuit. He brings with him bloodlines that include not on Mr.San Peppy, but Skipper W, and Poco Bueno.... (read more) If you are looking for a real cow horse, look no further. We will no longer stand the Kiger Stallion Rio Spyder who has a promising future as a endurance prospect. We also take in Off the Track Thoroughbreds and retrain them for second careers.