Additional Comments
7 year old buckskin filly for sale. Has had nearly 2 years of training under the natural horsemanship method just like Clinton Anderson and Dennis Reis. We use her to check cattle, ride trails, lead line kids off of, and compete in the local horse show doing all the speed events such as poles, barrels, flags, and the speed race. Paisley will make a super rodeo pony with more extensive training. We have worked on her pocket around the barrels...doing great, lopes a straight line in between barrels.... (read more) Does great with flexing, yeilding her hind quarters and forequarters and is excelling at serpentines at the walk and trot. The longer we keep this pony, the higher the price will go....She will weigh about 800 to 850 lbs now. She is exactly 56 inches. THIS WILL NOT BE A GOOD FOR A BEGINNER, needs a 11 to 15 year old that can ride, discipline, and continue her training. Must go to a good home. We have an arena and a roundpen as well as 300 acres with clear trails to try her out on. She works really well in the roundpen. Knows yielding forequarters, hindquarters, and move feet forwards, backwards, left, and right. She has great solid feet, stands quiet for trimmings. Knows how to stand tied patiently waiting for her events at the shows. Gets along well with other horses once the pecking order is established. We dare say she would make a SUPER heel horse because of her size. We have several videos on our Youtube Channel at Riddle Cattle Co. Please email for links! This horse is currently being used at the local livestock auction. More and more publicity every day!
---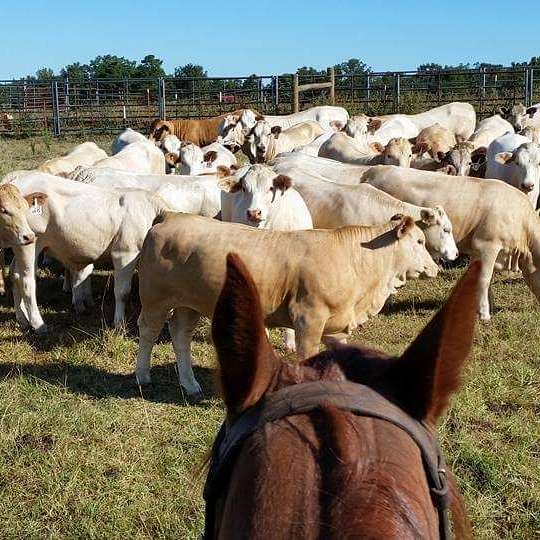 Riddle Cattle Company
We steward and raise crossbred beef cattle in the great state of Arkansas. Each year we build several preconditioned stocker and replacement heifer groups all worked from horseback. We enjoy turning out some good working ranch and kid horses throughout the year. Call Mo at 501 691 0048 for more information on any of our working horses or to fill your farm with some quality beef to fit any business plan. Grass fed beef available. Lane Riddle, Operator.