Additional Comments
SOLD: Rocky, 1998 seal brown Morgan gelding with a lot of energy. He is 15H and 950 pounds right now but throwing feed to see if he eats more and plays less. He looks bay here but when he sheds out he looks black in summers. He is unregistered without papers and a rescue that I would like to place. Rocky is a purebred.

Sorry about the mud in these shots but these photos is from March 7, 2012 so pictured in his winter woolies. The more I brushed the worse it got so some mud it is.... (read more) I will give fun Rocky a bath and reshoot his photos as it warms up and he sheds out if he is not placed in a new home. I will take videos then too.

Has shown saddle seat in the past so he is broke to ride. Here he is parking out for a halter class and he will stand still like that.

Not for beginning or unconfident riders not because he is mean just a lot of horse even at age 14. Very cute boy who needs a new job.

Asking $800 to the best home.

---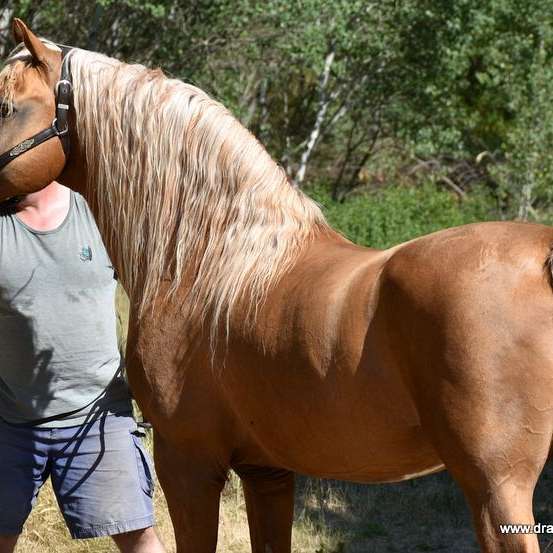 Dragoon Morgans & Studios
In Morgans since 1964, we are standing cremello and bay Morgan stallions at stud to all breeds and gorgeous Morgan foals for sale now and then. We only have a few foals and they are always well handled since birth, trained and shown before sold. Our foals are always well started, mellow, kind, load, stand tied, go to shows starting at a young age, etc. We continue their training until sold then breed a foal or two.... (read more) We are not large breeders but the ones we sell are trained a lot before leaving us with their ground work. Once we sell a foal than we breed back and start the process once again. Sorry we do not work outside horses or board them but we can refer you to people who do that. We only have enough time to train and sell our own horses. We do volunteer with Rough Start Horse Rescue to work and market some of their homeless horses since 2010. We take in Morgans and crosses from Rough Start Horse Rescue to foster, train and find homes. I attend many of their events and shoot photos for them as well. See Dragoon Studios on Facebook or www.dragoonstudios.net Secretary of the Spokane Morgan Club, www.spokanemorganclub.org to see stallions at stud, horses for sale, events and more.