Additional Comments
A-N-Y-O-N-E LOOKING FOR A GAITED HORSE FOR THEMSELVES OR THEIR LITTLE ONES SHOULD COME GIVE "RUSTY" A TRY!! He is as solid and SAFE as they come and an absolute joy to ride! Perfect for any rider from 1 year to over 100 years old...IF YOU CAN SIT UP YOU CAN RIDE HIM! No matter your experience level, you will be satisfied because this gentle giant babysitter adjust to a rider extremely well and can go from being a juiced up go getter to walking on egg shells at the drop of a hat!... (read more) Sounds good so far but a horses history is important to you??? RUSTY WAS BORN ON HIS OWNERS PROPERTY AND HAS NEVER CHANGED HANDS!!! There is nothing about him that will be a mystery....they can tell you everything about him from the day he was born!! NO PAST OR PRESENT HEALTH OR SOUNDNESS ISSUES! No spook, no buck and no bad habits!! Current on all wormings, just trimmed, and will sell with brand new current coggins papers!!! Picks up all four feet with no problem and stands for farrier. Fine barefoot or standing on iron! Hard black hooves with a deep healthy frog, no cracks and not tender footed! This Gelding stands 14.3 hands tall and is stout enough to carry the largest man but caring and safe enough it will be like you have your little ones in your arms anytime they are on his back! 18 years old which means he is equiped with the years of experience that it takes to make him the outstanding horse he is combine that with his perfect, injury free health history verifiable by the folks who owned him since birth and you have a perfect horse! I know your question is "WHY ARE THEY SELLING HIM???" Understand first that his owners are a little picky about who gets him. They are a retired couple who had years of enjoyment from him, they don't need money, and they love this horse. It's not even due to the orders from the doctor that he give up riding and training horses which has been a major part of his owners life....believe me, Rusty has earned his keep and the right to live his life out at their place! Owner told me if there was any chance of his grandaughter EVER having the desire to ride a horse even once there would be no way he would sell him but he knows that will never happen and they want whats best for Rusty. These are not selfish stingy people and they know that a horse as outstanding as this one is not only a waste standing in the pasture doing nothing, he also misses doing what he loves! If you spent your life riding/raising Quarter Horses but due to past injuries, age or health issues you are now in need of a "smoother" ride...RUSTY is a dream come true!! He is the gaited version of your best Ranch Horse! Don't have to hold him in his gait, he is as natural as they come! Used to work cattle, been Team Roped off of out of the box and in the pasture, head or heel, he's done every Playday event there is, been ridden in several Parades/Grand Enteries, and Trail Riding is his speciality! Years of weekend Trail Rides in the mountains and loads of experience as a Lead Horse was even used as the lead horse at Eagle Rock Mountain on the WINDING STAIRCASE in Arkansas! Used alot when training colts to cross wooden bridges and bridges on the highway. Does great riding on any terrain, perfect for rides in the mountains, through the woods or even down the side of the busiest highway, traffic doesn't bother him, if you are coming down a trail and there is a big water puddle he will tromp right through the center of it without being made to, over logs/down trees, through and across water/creeks, never has to be "made" to do anything because he is a perfectionist when it comes to pleasing you! I asked about him spooking and owner said he has only spooked once EVER....said they were riding through a field with grass up past his belly when they came up on a group of bedded down deer, Rusty jumped a little and just stared at them as they took off...owner said he kicked him up and they took off chasing them! Said that was years ago and even though they have encountered similar situations, Rusty has never spooked again! There are 18 years of stories about this horse from people who deeply love him and I could go on and on. I have rode him myself and can tell you first hand there is nothing you can't do off him and you will never feel as SAFE and confident as you will on this horse! He has been shot off of too! If you are wanting and/or needing a GAITED horse he is THE RIGHT HORSE 4 U!! $2800 is CHEAP when you are talking about a horse that is in all reality PRICELESS!!! For information, picture/video request (I have SEVERAL of both!!), or to schedule a time to come give Rusty a try, call Stacy at 903-280-3586 or 903-667-4791. Located in DeKalb TX and I am available anytime!
Watch Rustyandminifilly 092.mpg
Shipping Notes
Shipping is available at buyers expense! Call or email for shipping quote!
---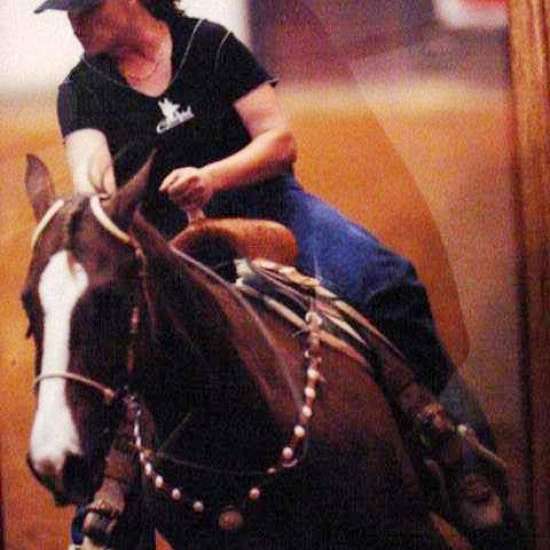 The Right Horse 4 U
I locate, buy, trade and sell a variety of Horses, Ponies, and Miniatures specializing in those that are Kid/Beginner SAFE and capable of making all of you or your little ones Horse Related Dreams Come True! I SELL HORSES "NOT" STORIES!!! I always have several to choose from. Call me anytime at 903-717-1823. Be sure and leave me a message with a number where you can be reached so I can call you back if I don't answer....... (read more) I WANT TO HELP YOU FIND EXACTLY WHAT YOU ARE LOOKING FOR!!! If I don't have the right horse 4 u, chances are I CAN FIND IT!! Located 2 1/2 hours East of Dallas off Interstate 30 in Omaha, Texas 75571 and available anytime!