Additional Comments
Exceptional PRE / ANCCE / Carta Verde Purebred Andalusian Horses
~~~~~~~~~~~~~~~~~~~~~FOR SALE~~~~~~~~~~~~~~~~~~~~~~~~
Mare's, Colt's, Filly's, and Stallions ~ FOR SALE~
Prices (for youngsters) starting $5,000
The Stallion in the photo has been sold. Offspring and mares in foal are available for purchase. Prices starting at $5,000
Please call regarding pricing.
Gerardo 562-335-0259
For information in English 714-660-3392
https://youtu.... (read more) be/5vPOlaKhaRc
Watch Alexandria Presents-Amazing Dressage/Alta Escuela Andalusian
Watch Alexandria Presents ~Exquisite Andalusians ~ ~ Prices Starting @ $5,000
Watch Alexandria Presents - Campero rs ~ Andalusian ~ for Sale ~
Watch Alexandria Presents - Campero rs

DO YOU HAVE AN ANDALUSIAN, FRIESIAN or DRESSAGE horse FOR SALE?

Baroque Equus and Alexandria are proud to announce that we are now offering sale services to outside clients. Alexandria has been extremely successful in finding wonderful homes for numerous high end horses over the past year. Alexandria has successfully sold 10 horses ranging in price from $10,000 - $80,000 in the past year. Please contact me regarding the sale program.


---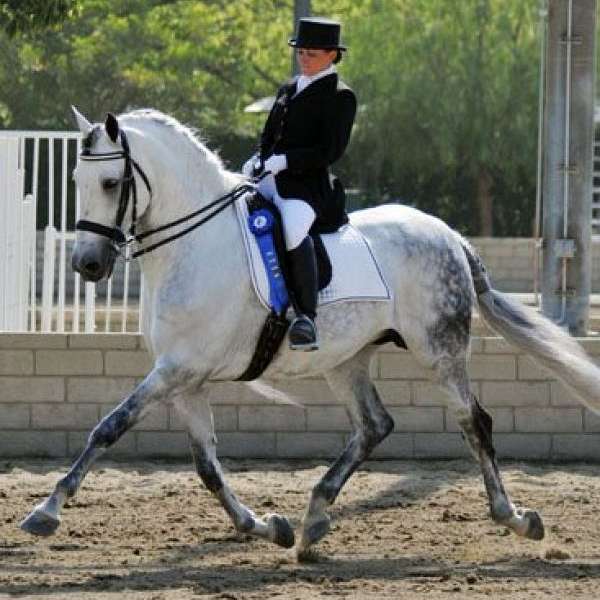 Baroque Equus
Dressage Training and Sale Horse services now located in New Braunfels Alexandria, head trainer at Baroque Equus and Former dressage rider and performer from: Medieval Times ~ http://www.medievaltimes.com/, The World Famous Lipizzaner Stallion Show ~ http://lipizzaner.com/, War Horse Productions ~ http://warhorse.com/, and Disneyland is now accepting dressage training horses and clients. Alexandria has had an extremely successful career inside and outside of the dressage court.... (read more) Alexandria has had the wonderful opportunity to be a dressage rider and performer for numerous world renowned companies such as "Medieval Times" and "The World Famous Lippizaner Stallion Show." She has also won numerous championships at ANCCE, PRE, IALHA, and IFSHA shows. Alexandria and Baroque Equus focus on clientele who are interested in learning classical dressage, as well as competing in USDF dressage shows, ANCCE, and Friesian shows. Please contact Alexandria regarding her training program. Services provided: Visit my FaceBook Page for photo's of horses for sale: https://www.facebook.com/AlexandriaBaroqueEquus Also visit my YouTube Channel for video's of sale horses. http://www.youtube.com/user/alicat254z?feature=mhee