Additional Comments
Great mover, small or big trot, easy canter, great leg yields. Experienced lesson horse. One of the first horses students can learn to canter on as it's soft and gentle and not too crazy and he will easily slow back down. He has had dressage training, has worked turnback for a cutting program, has trail ridden, jumped, ponied colts... He has done it all. Rides bareback, in a halter, or goes in the bridle. Up to date on teeth floating, vaccinations, deworming, barefoot natural hoof care, body work.... (read more) Trailers, ties, bathes, lunges. Gentle and very sweet. Terrified of male riders so I will only sell to a woman. Can be a bit fearful of male farriers and vets but nothing too bad. Pluto is very special to me. He is my soul mate of horses. But I no longer ride due to severe hip arthritis. He does lessons, but he does them for me, because he knows it's what I'm asking him to do, and I'm there with him. In reality he's afraid of unskilled riders and would not be a good beginner horse. I could really stand to have fewer horses and Pluto is the most sensitive, loving horse here who would be very happy with an owner of his own. My other lesson horses are machines, but Pluto wants a relationship.
Watch My son Hanging out With Pluto
---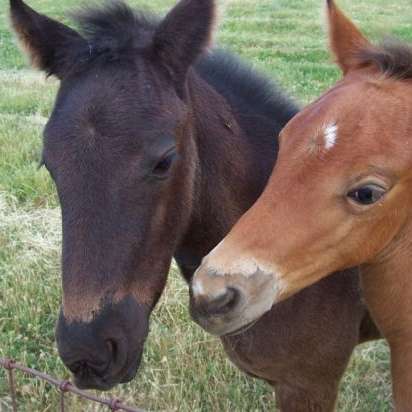 Allison Acres
Allison Acres, Galt, CA (209) 224-4304 www.allisonacres.org Owner and instructor Cindi Scoleri: • ARIA certified: riding instruction and stable management • Current California substitute teaching credential: this means Cindi has been fingerprinted and background-checked. BA in psychology, teaching credential program completed, graduate study in education.... (read more) Feel confident about where you send your kids! Practice Leadership, Assertiveness, Compassion and Responsibility Lessons for adults and kids: natural horsemanship, groundwork, gymkhana, trail, obstacles, desensitization training, clicker training, lower level dressage and jumping, pony rides, birthday parties. Boarding:  Stalls or group board  Dry lots and low NSC feed for special needs horses  Covered lighted arena with new sand footing, outdoor arenas, training hill, paths/trails, round pen, washracks, tack space  Additional services: Training and exercise for your horse, hold for vet/farrier, whatever you need! See website for more photos and current prices!