Additional Comments
Flashy, flashy, flashy! Willy is a big stout, stylish gelding. Willy is an eye catcher with his long, thick flaxen mane and his big thick blond tail. When Willy starts gaiting people start staring. He bobs his head and his long mane starts flowing, he picks his feet up high and stretched his back feet under neath himself. What a beautiful horse he is! Willy performs a head shaking flat walk, a four beat gait and he will lope for you too. Willy has a very smooth to ride 4 beat running walk.... (read more) He is set in his gait and performs his gaits with ease. Willy also has great ground manners and is easy to handle. He will stand to mount, gaits beautifully, listen to leg and verbal cues and he will go out alone without ever looking back. He is brave and intelligent with many great attributes. Willy has been exposed to deer, turkeys, ATV's, bicycles, cars, trucks, semi's, dogs, tarps, plastic bags, high winds... He is not spooky acting. He is a big stout Walking Horse with a build like a Quarter Horse. Willy can carry large riders with ease down steep hills, through creeks and up mountainsides. Point him and he will take you where you want to go. He has lovely personality and will do anything you ask on the ground (bathe, clip, lift his feet easily, halter easily, lead quietly, load and unload, trailer quietly, stand great in the cross ties...). Willy is a great forward moving trail horse with lots of style and class. Advanced beginners on up will enjoy riding this classy horse!
Shipping Notes
WE can arrange shipping anywhere.
---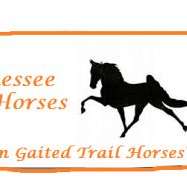 Tennessee Trail Horses
Tennessee Trail Horse is a family owned and operated sales facility for naturally gaited trail horses. We are honest hardworking, Godly people who love to ride horses. Our purpose is to match riders with their perfect horse. We are located in southern middle Tennessee right in the middle of Tennessee Walking horse country. We specialize in offering only the very finest of gaited horses and matching the ideal horse to the needs and wants of each individual rider or buyer.... (read more) All of the horses we offer for sale are very calm and gentle. They all have lots of trail experience as well as loading, clipping, bathing and shoeing experiences. All of our horses are dependable, reliable, surefooted as well as great tempered.They're all sound and healthy as well as up to date on all shots and vaccinations. We don't want to just sell you a horse. We want to sell you a companion and life-long friend.