Additional Comments
Wow, what a gorgeous mare! Bey is 6 years old, a strong 15+ hands, and is ready to show at halter. Check out the unbelievable pedigree on this girl: Magnum Psyche and Bey Shah grandsires. Bey is extremely people-oriented and can handle a lot of "stuff" as long as she's close to her handler. I don't think I've ever worked with an Arab that is so dependent on her person. She doesn't mind if she's away from other horses because YOU are her buddy. Bey is not broke to ride but she saddles fine and has had a rider on her back without any issues.... (read more) Just needs to learn the basics of reining. She has natural collection and balance, and could easily show in Huntseat or even Saddleseat. We got Bey thinking she'd make a good endurance prospect, but she really needs to be in the show ring instead. She does have a couple superficial scars on her legs: front left pastern and back cannons. I have her listed very low so someone could still afford to look into options to clean those up. Her movement is in no way compromised by the blemishes. Lots of energy in this mare, but she wants to please and is very controllable....and she's sweepstakes!!! $500 obo. Email me for more pictures. Free shipping to the Twin Cities area this weekend.
---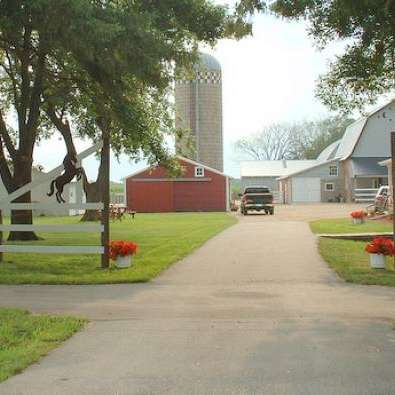 Fort Ridgely Equestrian Center
Our farm is located just north of Fort Ridgely State Park, in the scenic Minnesota River Valley. We offer full boarding, guided trail rides, lessons, and training.