Additional Comments
Beautiful bay/white DNA tested homozygous tobiano stud colt foaled 6/21/2011. His genotype reads Ee Aa TT. This guy is the BEST homozygous colt on the market right now!!
His pedigree is one of the best you'll find on any homozygous horse currently on the market. It includes greats such as Colors in General (grandsire), Georgia Firewalker (grandsire), TWHNC WC Generators Winning Colors (grandmother - she is also a full-sister to Generator's Color Guard), Colors Cost a Plenty, Prides Generator (x3), Gen.... (read more) 's Major General, Paint the Town, Paint's Rooster, The Pusher C.G., and The Flying Colors. Not only that, but his dam was a WC in SSHBEA Sport Horse as a 2 year old. View his pedigree at this link: http://oi51.tinypic.com/14ebajq.jpg

He was bred for performance, not color...if you are looking for a future breeding stallion why not buy one where color truly is just a bonus?

Besides pedigree, this boy has an excellent build with great substance and bone. He has his sire's trademark arched neck, laid-back shoulder and curvey "show" ears. His body blends smoothly together, and his legs are straight & correct. He also has a nice rounded hip with good length to the hip bone. He holds his head high and is a picture of elegance to look at.

This colt is eligible for triple registration TWHBEA/SSHBEA/NSSHA. He currently has SSHBEA papers and will sell with signed applications for the other two associations, but for additional cost we can include registration in the TWHBEA and NSSHA registries. Transfer fees will also be the responsibility of the buyer to pay.

"Dirk" as we call him was imprinted at birth (before standing for the first time) using Dr. Miller's desensitization techniques, and at 24 & 48 hours using Dr. Miller's sensitization techniques. He has been worked with daily since his birth and will continue his lessons as long as we have him. He is incredibly friendly, and turns on the forehand/haunches in-hand (view video of him at 2 weeks old here: The Georgia General - "dirk" - Turn on Forehand/haunches ) , backs, leads, allows all 4 feet to be picked up/handled, and has started parking out. He was desensitized at birth to clippers, plastic bags, newspapers, and this desensitization has been reinforced. He reacts to "scary" flapping and crinkling phenomena, in front of him, behind him or rubbed on his body, with nothing more than perked ears, showing interest but no fear. He has been one of, if not the, quickest of all our foals to desensitize and learn response to pressure. He is extremely intelligent and laid back, traits he gets from his parents. Dirk is very naturally gaited, and nods his head at liberty in the field (view video of him in a flat-walk here: The Georgia General - "dirk" - TWH Colt, Flat Walk . He comes by his gait naturally; both of his parents are smooth and can nod their heads barefoot.

Whether you want this colt for a stallion prospect, or for pleasure, he is one of the best you will find. Email for our website link, where we have more pics of him, and of his sire and dam.
---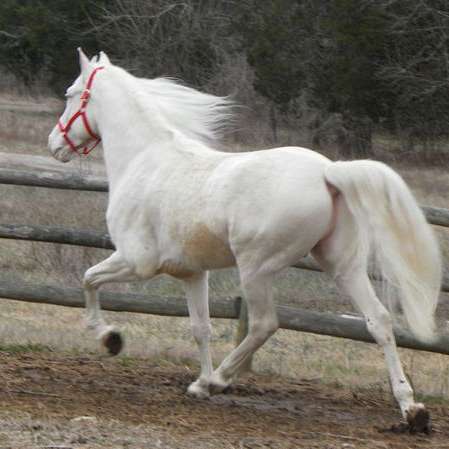 Heaven's Gait Ranch
We are a small family owned & operated farm located in middle Tennessee. We breed, raise, and sell quality Tennessee Walking and Spotted Saddle Horses suitable for show or pleasure. Every horse we offer is trained by us, from the ground up. We are proud to offer horses for every market, from unborn (in-utero) foals, to weanlings, yearlings, started and finished trail horses, and broodmares.