Additional Comments
Smith is an experienced carriage horse that has retired from that 'job' and is looking for something new to excel at. He's very friendly, easy to handle and loves people (he's always at the gate wanting attention). He's good with the farrier and is in excellent health (no history of foot problems, colic, etc.). He's got more flash and pizzazz than I've seen in many horses - a true beauty! He's suitable for more carriage work under an experienced teamster, or if teamed.... (read more) He's also got a good w/t/c that is coming along nicely and will be wonderful under a regular routine. He has great potential under saddle, but we do not have the time to devote to bringing him to his full potential. He was recently exposed to vaulting and did very well for a first-timer. His carriage experience makes him an easy temperament where nothing much bothers him. Price negotiable to right home.
---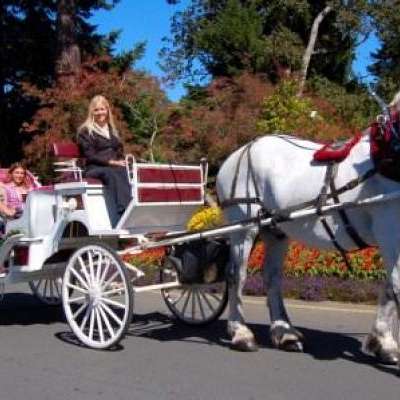 Tally-Ho Carriage Tours
Tally-Ho Carriage Tours is located in beautiful, Victoria, British Columbia, Canada. We are Victoria's original horse-drawn tour company that has been creating unforgettable memories for visitors and locals alike since 1903! Our horses are part of our family of owners, staff and locals who love them.