Additional Comments
Gorgeous classic champagne gelding that gaits like a dream! He has the looks, mind, training, gait, personality.... Rogue has it all! He is one of the sweetest, most charming horses you will meet. He loves people and loves attention. Rogue gets an A+ for personality! Not only is he sweet to be around, he is sweet to ride. Rogue is one of those horses that exemplify the term "glide ride". One ride and you will be hooked. He is flashy and has a presence that commands attention.... (read more) If you are looking for a horse that will turn heads on the trail, wait till they see you and Rogue! He is a horse that will make a Tennessee Walking Horse fan out of the most dedicated trotter. One ride and it is all over, he will go home with you! Rogue has a unique classic champagne coloring with a long mane and a super thick tail. He has excellent confirmation, beautiful amber eyes and is a puppy dog to be around. Rogue is content to walk along on the trail. If you ask him he will get into his smooth running walk or lope for you too. Rogue has a natural running walk that is so smooth, you simply float in the saddle. Rogue naturally moves and covers ground in an effortless way.Rogue is an experienced trail horse. He will go out alone without looking back and does not seem to be bothered by anything on the trail. Rogue has been in the forests, mountains, down city streets and through the deserts and local parks. He is very intelligent and also extremely sure footed. Rogue has very nice ground manners and is patient to halter, lead, groom, bathe, shoe, load/unload, clip... Rogue is not a spooky acting horse. He has a good mind and lots of trail experience. He has been exposed to dogs, winds, plastic bags, ATV's, bikes, traffic, wildlife, forests, country and city life. Rogue has all the qualities that everyone is looking for in a trail mount. Adult beginners on up will really enjoy this gifted mover and special animal.
See multiple videos of this nice horse at www.dreamwalkerhorses.com
Call Jenn at 702-468-0915 for more information.
Shipping Notes
We arrange shipping nation wide for our customers.
---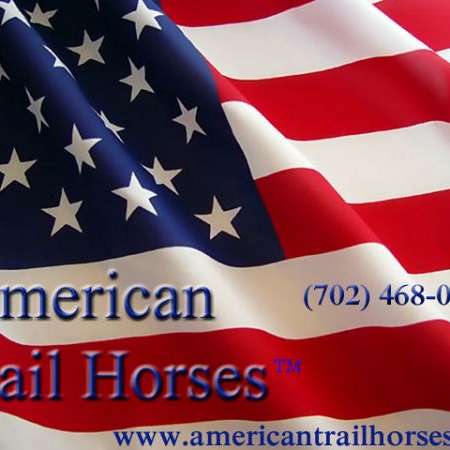 American Trail Horses
We specialize in well trained beginner safe gaited trail and pleasure horses. All of our horses have been exposed to county trails and busy city streets. We expose them to everything we can find so that you have a great trail ride every time. Ride the rest then visit us when you are ready to see the best.