Additional Comments
We have a 1997 registered fox trotter mare for sale. She's about 14hh and is a good one!

'Prissy' is a great all around horse, safe and sound for anyone. Catch her anywhere with halter and lead rope in hand.

She is gated and nearly bomb-proof, with no bad habits or quirks. She was trained to ride English and is a direct-reiner.

The whole family has ridden this little mare a lot and she's always the same, no matter what.... (read more) Truly safe for any age level, but no dead head.

Only goes when asked is always respectful of my little ones. She's been one of my 7 year old's favorites, but he has decided to sell her to buy another project.

Horses like Prissy are very few and far between and are the ones we always get calls for around Christmas. Get a jump on the demand and buy her now!
---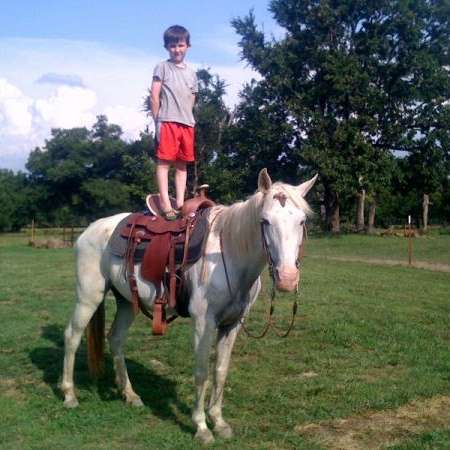 4 Mile Equine - Specializing in Beginner's Horses
We specialize in safe and fun riding horses for any age rider, but also offer the occasional performance-minded horse in need of a job or just-started horse in need of finishing. The kid horses are what we really enjoy and those we sell as "kid-safe" or for the beginer will be just that. We personally ride and test each one for many miles and hours to find any quirks or problems. About us: Jeff holds a Ph.... (read more) D. in zoology from Oklahoma State University. He works as a Conservation Program Director for the DoD and as an adjunct faculty at a few local colleges. In his free time, Jeff enjoys advancing his skills in a variety of mixed martial arts and is active in amateur boxing. Crystal is a full-time mom and runs the day-to-day operations at 4-MEQ. Like Jeff, Crystal enjoys boxing and martial arts, achieving the rank of 2nd degree blackbelt in taekwondo at the age of 28.