Additional Comments
AWESOME GELDING THAT IS PERFECT FOR ANY AGE AND/OR EXPERIENCE LEVEL RIDER!!! NO HOLES, NO BUCK, NO SPOOK AND NO BAD HABITS!!! RIGHT AGE, NICE SIZE, LAID BACK, EASY GOING, WITH OUT-OF-THIS-WORLD HANDLE AND HISTORY!!!
*********************************************************************
LeRoy is a 12 year old, 15 hand tall Sorrel Gelding with stockings that come above his knees on all four legs and a wide blaze. VERY FLASHY GOOD LOOKING HORSE WITH NICE STOUT BUILD!... (read more) He has spent the majority of his life on a big Ranch working cattle which is why he handles so well. Neck reins, great stop, backs with no problem, listens and responds to voice commands/leg pressure, NO BUCK, NO SPOOK AND NO BAD HABITS, he's easy to catch/load/haul, stands tied with no problem, bathes (loves a bath!), clips, stands for farrier and picks up all four feet, 100% sound with no past or present health or soundness issues, current coggins papers (health papers will be provided at no additional charge for out of state buyers), gets alongs great with other horses (even ponies and miniatures!), experienced with riders of all ages and rides the same if ridden everyday or once a year! He can be ridden on any type of terrain, crosses water, no problem in heavy wooded areas, not bothered by traffic/noise/etc... WOULD MAKE SOMEONE A PERFECT TRAIL RIDING HORSE THAT THEY WON'T HAVE TO WORRY ABOUT! THIS GELDING HAS BEEN THERE AND DONE THAT SO YOU CAN SPEND YOUR TIME ENJOYING THE RIDE RATHER THAN WORRYING ABOUT YOUR HORSE!!! LeRoy has been to a few Playdays where he was ridden by a 9 year old boy in the barrels, poles, straight away, speed race and flag race at a trot and slow lope....speaking of lope, he has one that is to-die-for! He is not patterned, just handles so good ANYTHING YOU WANT TO DO HORSEBACK, YOU CAN! The possiblities are endless and he is full a capabilities! Trust me, you can not beat a horse that is LAID BACK and EASY GOING that also has the fire, speed, and quickness if and when you need it!! Whoever raised, broke and trained this Gelding did an exceptional job!!! Well worth the money at $2750 however price IS still negotiable so feel free to make me an offer! For information or to schedule a time to come give LeRoy a try call Stacy at 903-490-2107 or 903-667-4791. This is the type of horse everyone should have atleast one of so he won't be available long! Call today! Additional pictures and video clips available on request!


Watch Leroy Pics Video 002.mpg
Shipping Notes
Shipping available at buyers expense! Call or email for shipping quote! FREE delivery within 30 miles of De Kalb TX.
---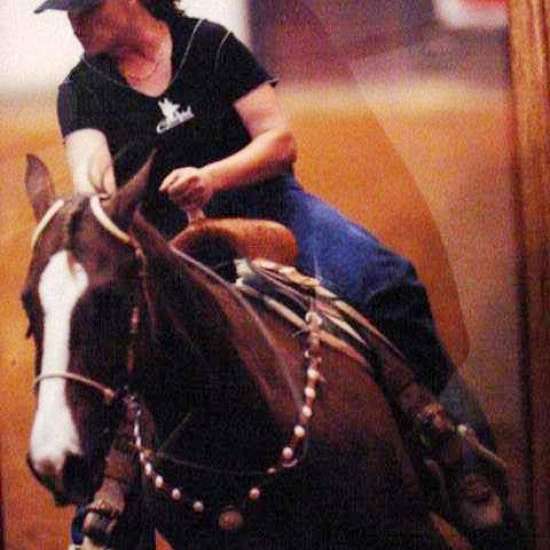 The Right Horse 4 U
I locate, buy, trade and sell a variety of Horses, Ponies, and Miniatures specializing in those that are Kid/Beginner SAFE and capable of making all of you or your little ones Horse Related Dreams Come True! I SELL HORSES "NOT" STORIES!!! I always have several to choose from. Call me anytime at 903-717-1823. Be sure and leave me a message with a number where you can be reached so I can call you back if I don't answer....... (read more) I WANT TO HELP YOU FIND EXACTLY WHAT YOU ARE LOOKING FOR!!! If I don't have the right horse 4 u, chances are I CAN FIND IT!! Located 2 1/2 hours East of Dallas off Interstate 30 in Omaha, Texas 75571 and available anytime!