Additional Comments
Gorgeous black tobiano gelding with lots of style. Double Down is a one of a kind horse. He has a beautiful face, a long white mane a mixed tail and a unique spotted coat. He is very striking to look at and flashy when he moves. He is extremely gentle, smooth to ride and suitable for just about anyone to ride. Ride him with a saddle and bridle or bareback. He is a great horse!  Double Down is patient, very well trained and super calm. He is not spooky acting and is a great confidence building horse.... (read more) He is easy to handle on the ground with great manners. When you saddle him up he knows his job and takes very good care of his rider. Double Down is gentle and kind. Double Down has been a trail horse all of his life and loves to be out on the trail. Many beginners have learned to ride on Double Down. He is excellent in the woods and skillfully climb hills then carefully maneuver his way down steep rocky declines. Double Down is happy to go out and explore! He is very sure footed and doesn't miss a step on the trail. He has a great mind and a forgiving personality. Double Down will stand patient to groom, bathe, clip, pick his feet, worm... He has been exposed to traffic, dogs, bikes, motorcycles, schools getting out, skate boards, construction vehicles, deer, turkeys, cows, birds, wildlife, crossing water, bridges. Point him where you want to go and he will take you there. Double Down will stand quiet to mount/dismount, walks out on a loose rein, gaits on a loose rein, stops with a whoa, listens to leg cues, he will let you monkey around on him and even stand on his back!Double Down will perform a flat walk, saddle gait and he has an awesome lope too. He is very well behaved all the way around. If you have been looking for that smooth, gentle horse to enjoy for years and years ... Look no further as Double Down is a flashy beauty that you, your friends, children and spouses can enjoy. He is a steady, experienced trail mount that you will enjoy for years and years! He has a great mind, nice disposition and he is super on the trails and in traffic! Beginners rider, husband safe, wife safe, kid broke, great trail horse!
Go to www.dreamwalkerhorses.com to see over fourteen videos of this awesome horse!
Call Jenn at 702-468-0915 for more details.
Shipping Notes
We arrange shipping nation wide for our customers.
---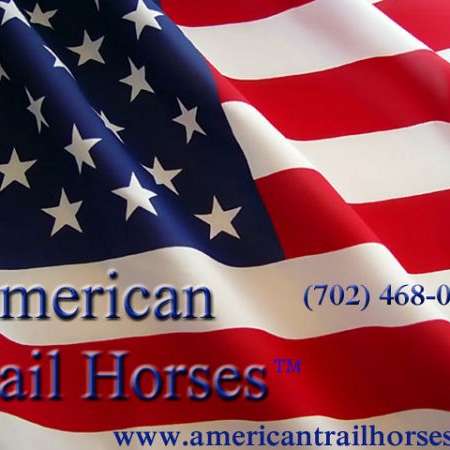 American Trail Horses
We specialize in well trained beginner safe gaited trail and pleasure horses. All of our horses have been exposed to county trails and busy city streets. We expose them to everything we can find so that you have a great trail ride every time. Ride the rest then visit us when you are ready to see the best.