Additional Comments
Adorable, Flashy Black Rocky Mountain gelding. Star is an absolutely gorgeous horse. He has a think muscular build, perfect confirmation and a perfectly shaped head with delicate shapely ears and kind dark eyes. Pictures do not do him justice. Star is a beauty that has it all. Looks, personality, gait, style and the right attitude. He is a lovely horse in every way. He is a lifetime horse with everything going for him.Star is a sweetheart to be around and is very fun to ride.... (read more) He is extremely well trained, easy to ride, smooth as glass in the saddle and a gentleman in every way.Star is very easy to handle on the ground. He will let you do just about anything to him and will stand there quieter than a mouse. He is great to groom, bathe, clip, worm, lead, tack up, catch, load/unlaod, trailer... There isn't anything we've found that he will not do. Star is a wonderful horse to ride. He has an incredibly willing attitude and will do whatever you ask with the slightest request. All you have to do is ask and he will gladly turn, stop, gait, back up... Star is an obedient, loyal trail mount. He stands perfect to mount/dismount, listens patiently to his riders cues, stops with a verbal "whoa", moves out with a squeeze of your legs, verbally backs up, goes out alone is great with a group and gaits masterfully at various speeds. He has super nice gaits that are smooth as glass at every speed. He is a wonderfully gaited horse that is phenomenal to ride! He has a solid 4 beat gait that he can perform slow or fast and he will canter for you if asked to. Star gets along great with ther horses, goes out well in a group and is not spooky acting at all. He is solid, reliable and also very nice to be around. He is very friendly and enjoys people.Star will come to you in his stall or pasture. He is a horse for anyone who knows the basics of riding to enjoy. He has been exposed to traffic, bicycles, dogs, city and country life. He is EXTREMELY sure foot and reliable. Star is beautiful, calm, well trained, very smooth to ride and great on the trail.
Watch Star Tennessee Walking Horse for Sale
Shipping Notes
We can arrange shipping anywhere.
---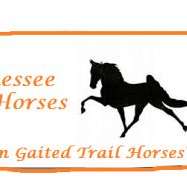 Tennessee Trail Horses
Tennessee Trail Horse is a family owned and operated sales facility for naturally gaited trail horses. We are honest hardworking, Godly people who love to ride horses. Our purpose is to match riders with their perfect horse. We are located in southern middle Tennessee right in the middle of Tennessee Walking horse country. We specialize in offering only the very finest of gaited horses and matching the ideal horse to the needs and wants of each individual rider or buyer.... (read more) All of the horses we offer for sale are very calm and gentle. They all have lots of trail experience as well as loading, clipping, bathing and shoeing experiences. All of our horses are dependable, reliable, surefooted as well as great tempered.They're all sound and healthy as well as up to date on all shots and vaccinations. We don't want to just sell you a horse. We want to sell you a companion and life-long friend.