Additional Comments
2011 Registered Half Arab. Sired by Kuhailan Artex, our black purebred Arabian stallion who is consistently siring high quality athletic babies with very trainable minds out of a well bred purebred Morgan mare who has tons of trot and Morgan type. This little bay sweetheart is friendly and very laid back. She loves to be with people and learns very quickly. Dam is sired by a 16hh Noble Duke and seems to have passed her size on to this filly- expected to mature 15hh+ /-.... (read more) We took this little beauty to the 2011 Equine Affaire and she was a superstar! We body clipped her in front of a crowd of about 20 people- she just stood and let us despite the commotion. She takes everything in stride- she is only a yearling and has been bathed (more than once), body clipped, had her feet done regualrly, tied, trailered (several times and the trip to Equine Affaire is four hours), she spent quite a lot of time in the Breed Pavillion at Equine Affaire with tons of strange people touching her and gathered around- she never got even the least bit upset. We have been working with her as far as standing up to be shown and she is doing well. We have been playing around with her as far as saddling her up with a pony saddle, ponying her- anything to prepare her for an "under saddle" career. We have a homemade "Cowboy Course" where we work all of our babies- Feather has shown that she likes to jump! Looks like she has some serios potential as a hunter. Feather has had a LOT of groundwork and will be a breeze to break and train. She has the conformation, type and definite snort and blow to be a great halter horse. She can really turn it on- she loves to show off but is never "crazy" or hard to handle. This filly would be PERFECT for an experienced 4H'er to take and train, ride and show because she just has the most unbelievable temperment. She is current on all of her shots, rabies and coggins. We do have some video available and will be posting it to You Tube soon. TONS of pics available. ***WE CAN NOW ACCEPT PAYPAL AND CREDIT CARDS!*** Visit website for details.
Watch For Sale- 2011 Registered Half Arab (morab) Filly-this One's a Steal!
Shipping Notes
Current coggins. Buyer responsible for all shipping costs.
---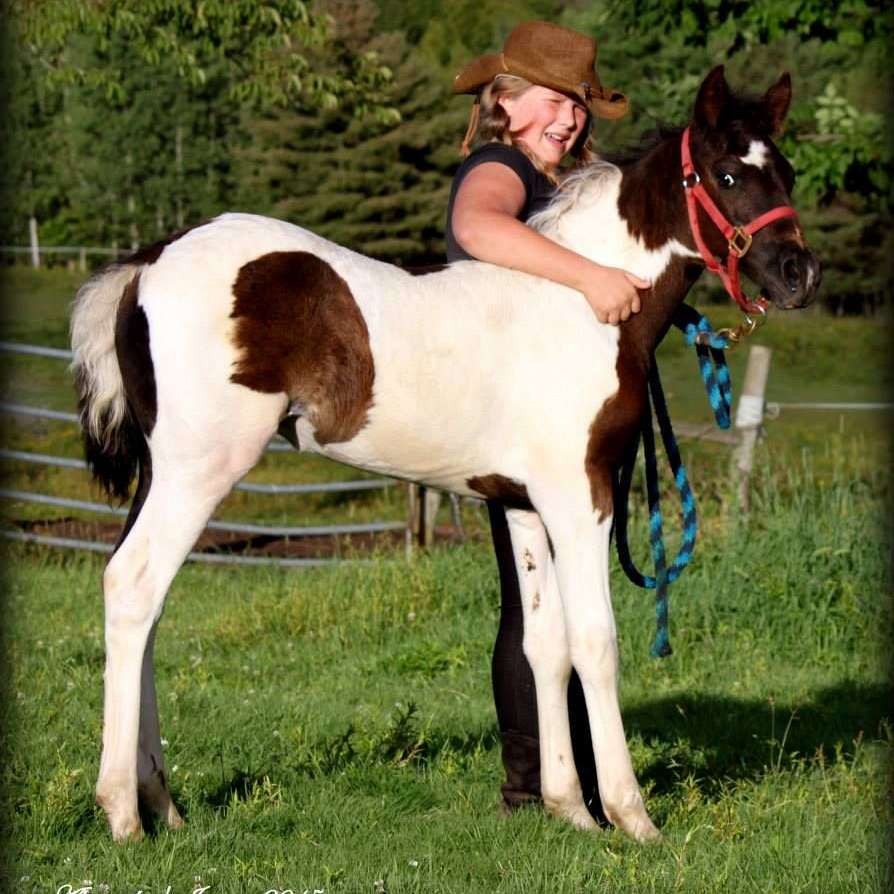 Foxwillow Farm
Breeding Quality Missouri Foxtrotters with Family Ownership In Mind! We are the home of the ONLY Missouri Foxtrotter stallions standing at stud in New York! Home of the well known Cotton Eyed Joe Y and the stunning Mr. Renegade's Go Boy! If you like a smooth ride with color and a great disposition check out our Foxtrotters! Visit our website for more information on Mr. Renegade's Go Boy who is standing at Public Stud and to see what we have for sale.... (read more) Renegade is homozygous for the black AND Tobiano genes making his foals also eligible for registration with the Spotted Saddle Horse and Pinto Associations. Weanlings for sale every summer and fall, mature horses available from time to time. Visit our website for more information.