Additional Comments
Beautiful colored black and white gelding. Highway Man is a super flashy spotted gelding with a people loving personality. He has a long mixed mane and big, thick mixed tail. Highway Man is kind, loving, gentle and very affectionate. On top of having such a wonderful personality he is also very easy to ride and enjoy. Highway Man is a big horse with a pretty face, kind eyes and great confirmation. Highway has a big heart and a loving disposition. Take him right out of his stall, tack him up and head out for a great ride every time.... (read more) Highway Man is very easy to handle. He is easy to catch and comes to you every time he sees you. He is easy to halter, lead, clip, tack him up, trailer... He never looks back and heads out for a great ride every time. Highway Man has been ridden by young adults, beginners and has been loved and cared for all his life. He is gentle enough for beginners to ride and fun enough for those of us looking to move out on the trail to enjoy as well. He has a smooth flat walk and a solid 4 beat saddle gait that is very smooth to ride at various speeds and an awesome canter! He will perform very well in the arena but he really shines on the trail. He will go out alone or in a group and he is not spooky at all. Highway Man will lead, follow or go anywhere in the group. He stands quiet to mount, walks on a loose rein, gaits on a loose rein, canters with ease, stops easily when asked, listens to leg and verbal cues, backs up and is just a super nice horse to ride. Highway Man has been exposed to traffic, dogs, plastic bags, wildlife, ATV's, bicycles, children at play... We have taken him past consruction zones and he is NOT spooky at all. He will cross water, climbing steep hills, carefully maneuver his way down hill and go wherever you want to go. He is very sure footed and dependable on the trail. Highway Man has knock out looks, a sweet personality, extensive trail experience and a great disposition. He is a wonderful horse in every way. He is a husband safe, wife safe, family horse. Beginner riders on up will enjoy riding this great horse. See over fourteen videos of this great horse at www.dreamwalkerhorses.com or Call Jenn at 702-468-0915 for more information.

Shipping Notes
We arrange shipping nation wide.
---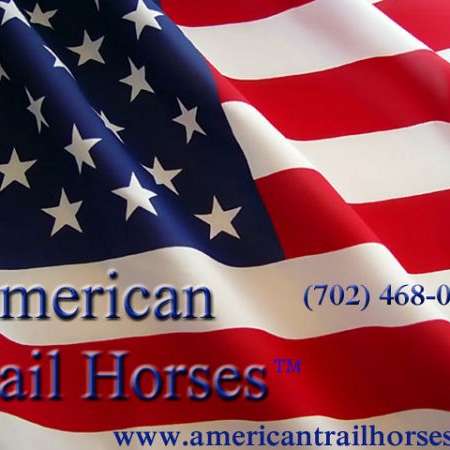 American Trail Horses
We specialize in well trained beginner safe gaited trail and pleasure horses. All of our horses have been exposed to county trails and busy city streets. We expose them to everything we can find so that you have a great trail ride every time. Ride the rest then visit us when you are ready to see the best.