Additional Comments
WC Sparkling Moonshine is an awesome 2 year old triple registered TWHBEA / SSHBEA / NSSHA filly foaled 11/10/2008. Shown extensively as a weanling, she is a World Champion, Res. World Champion and Horse of the Year in SSHBEA as well as a Res. World Champion in NSSHA. She was started under saddle last fall and has shown a lot of promise as a fantastic trail or show horse. She is extremely naturally gaited, one of those that is totally 4-beats and stays that way even as she gets up a little speed.... (read more) You will never bounce on this filly! She also has great stride and a big reaching back end, and would make a great show horse in the country or traditional trail pleasure classes. "Sparkles" as we call her is very friendly and the first to come up to you in the field. She has been ridden out on the trails and is a natural; she has no spook to her and is totally relaxed. She has even been ridden by 11 year old Virginia, as a green broke horse that is saying something! She also has a superb pedigree, having been sired by WGC Patches Bad Moon Rising, with Prides Generator, The Pusher, Rock a Billy Bob, Rock's Bay Bob, and Paints Rooster on the bottom. Also, since Sparkles is a tobiano/sabino, she will ALWAYS produce a colored offspring when she is bred - even if the stallion is solid, she will throw a tobiano or a sabino every time. (tobiano and sabino are located on the same chromosome so she HAS to throw one or the other every time.)
We have sadly decided to sell this filly because she is just not going to fit into our breeding program, we are expecting her to mature around 14.1 hands and we prefer bigger horses.

Visit our website for more details.
---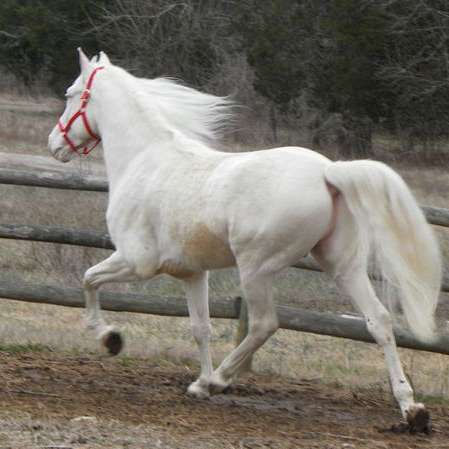 Heaven's Gait Ranch
We are a small family owned & operated farm located in middle Tennessee. We breed, raise, and sell quality Tennessee Walking and Spotted Saddle Horses suitable for show or pleasure. Every horse we offer is trained by us, from the ground up. We are proud to offer horses for every market, from unborn (in-utero) foals, to weanlings, yearlings, started and finished trail horses, and broodmares.