Additional Comments
Sunny is a big, beautiful bay gelding who needs a new home, with an experienced rider. FEMALE preferred ... he is timid around men, and because of his very long pasterns, he needs a lighter-weight rider than I will ever be again. I am 50+ years old & 50+ lbs. too heavy to ride this horse, who is also "too much horse" for me, at this stage of our lives.

He is pretty enough to show in halter, & has 6 months of professional training. Sunny has been trained to ride English or Western, with a snaffle bit or bosal, or just with a halter & lead rope.... (read more) Has been ridden bareback, too, but he is NOT suitable for children or beginners! Trained in long lines & probably could be a wonderful pleasure driving horse.

Sunny was given to me in July, 2009, when I bought his life-long "pasture buddy," a young black stallion, from his breeder, who was retiring. I paid a commercial carrier $1500 to bring the two horses from Montana to Texas, then paid a professional trainer $1500 to train Sunny for 90 days. I was excited about riding him, as he looks like a horse who would be a very smooth ride, and I had hoped to show him in training level dressage classes in 2010.

However, toward the end of the training period, Sunny "threw a bucking fit" and bucked the trainer off, breaking 2 of her ribs. The trainer, who is a very honest, kind, Christian lady, kept Sunny for an additional 3 months, at no charge, and re-did all of his training ... ground work, longeing, long lines ... with emphasis on de-spooking. Sunny wore sleigh bells, plastic bags were tied all over him, and every possible desensitization tool was used to make him as safe as possible for me to ride.

But, in the meantime, I fell off of a different horse & decided that, with my 2 artificial hips & fragile bones & aching joints, I would ride only older, safer, better-trained horses. So, when Sunny came home after 6 months at the trainer's, I offered him for sale.

Sunny found a new home in January, which I had hoped would be permanent, with a young lady who seemed to love him & who I thought was all set to be his "lifetime partner." She was very happy with him, telling me how wonderful he was, and that she had been riding him bareback in the pasture, with just a halter and lead rope. Then I didn't hear from her for a while, and today he was returned to me, because the new owner has decided that she wants to do endurance trail riding, and Sunny is NOT suitable to be an endurance horse. He has VERY LONG, very flexible pasterns, and would NOT be sound for endurance or jumping or any other "extreme" sport.

So, Sunny is available again, to a good and PERMANENT home ONLY, please. He is a beautiful, sweet-natured horse who wants to be someone's "best friend forever." He needs an experienced, light-weight, female rider, who can stay on (and not be frightened) if he should happen to buck. I don't know that he will, but he has in the past, so it's possible that he might.

Sunny is NOT suitable for children, because he is too young, doesn't have enough experience, and, as stated, he has been known to buck.

He can be ridden either Western or English, but is very sensitive & soft mouthed, so he needs a gentle snaffle bit or bosal, and a rider with light hands, who gives soft leg cues. No spurring or kicking hard, please ... he doesn't need it!

Sunny is NOT suited for endurance trail riding, or jumping, or reining, or barrel racing, or any other event that requires running fast, turning fast, or sliding stops. He could be a pleasure riding horse for arena or trail or pasture riding; he could probably do ACTHA trail rides, or horse show pleasure classes, or lower-level dressage / sport horse classes that do NOT include jumps. I recommend using splint boots with pastern protection / support, such as the "skid boots" reiners wear, to help support his pasterns. Or he could probably be trained for pleasure driving. He was worked extensively in long lines, and did well, so driving in harness with a light cart might be perfect for him.

If you think you might be the right person for Sunny, please contact me: ajn75644@etex.net.

Price is flexible to the right person ... as always, a good home is the most important consideration. This horse has never been abused, and is very well loved by his breeder in Montana, and by me. If the right person doesn't find him, Sunny will be a "pasture pet" for the rest of his life ... but we think he has a lot of potential, and could be so much more! He has a lot of love to give to someone ... could it be you?
Shipping Notes
I can arrange shipping, if desired. Horse is in northeast Texas, near the Arkansas - Louisiana - Oklahoma borders.
---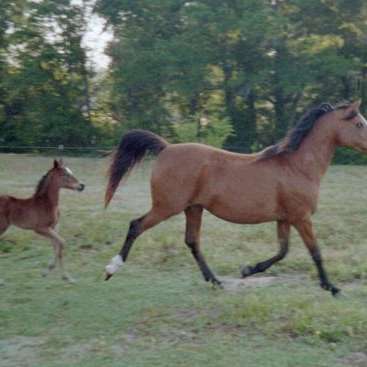 Diamond Magic Arabians
Beautiful athletes for pleasure, trail, & show. Owner/breeder since 1971. Life member of the Arabian Horse Association. Offering TC Moniets Legacy -- homozygous black, straight Egyptian, Breeders Sweepstakes Nominated Sire -- available by frozen semen ONLY. Young purebred Arabian horses available for lifetime partnerships. Special consideration for youth, amateurs, natural horsemanship fans & beginners.