Additional Comments
10 yr old Exmoor pony mare, 12.2 hands. Very sweet on the ground, stands to be groomed, loves attention! Stands to have her feet done but will "paw" with her fronts so you just need to hold onto them. Stands okay to be tacked up, just wanders around alittle. She has clearly been trained to a "T" in her past, just hasn't been ridden in awhile. Turns on a dime and whoa's on voice command. She's only been ridden once so far since we've had her (besides the kids riding her on the lead) but she will now be ridden once daily, weather permitting, to get her back into a routine.... (read more) She's a quick little thing and will need an intermediate adult or experienced child to finish her refresher. I see the possibility of her doing barrel racing for a small child, but we will see because it's possible she only has the "speed" right now due to having so much time off. We were told at auction that she's pregnant but they also said due in Jan. and it's March with no foal, so I can't promise that she is. Very very easy keeper! Gets along great with other horses and cows. Good around dogs! Loads like a dream, easy to catch, and ties nice. Adoption fee is 500.00 on a transfer of ownership and the fee will go up as she progresses with riding. Don't miss out on her, she's a pony you will LIKE to have in your barn!
---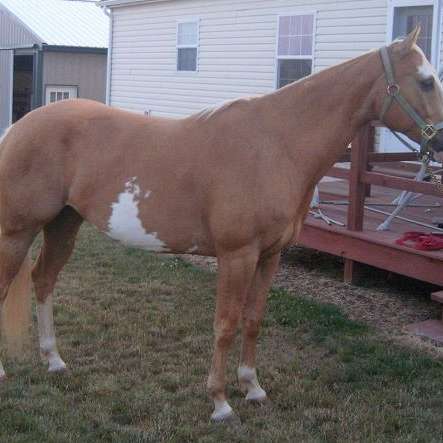 Stormy Knights Rescue
We buy horses directly from slaughter feedlots and at auction to save them from slaughter. They will then go up for adoption when they are ready. We will NOT adopt to dealers. We are a hobby rescue only, not a 501(c)3.