Additional Comments
Special bay mare with skills beyond compare. Music is a beautiful bay mare with a soft kind face and gentle eyes. She is a been there done that horse that is not spooky acting at all. Music has some very special and unique skills. Not only will she walk along as calm as could be on a loose rein, she will also speed rack in 20mph range. Her mind and attitude are as relaxed as horses get. She is incredibly peaceful which is in contrast to all the pictures above showing her physical capability.... (read more) She offers both a relaxing easy walk down to the park and a gait that will blow away any competitor. You can watch her videos as we get her racking and then take her down to walk on a loose rein. Music will also perform a nice and smooth slow gait as well. If you are looking for a unique and extremely talented horse then music is your girl. She has carried the American flag at country boy horse shows and wowed the crowd with her incredible racking speed. Music is very content and actually prefers to just walk along on the trail. Nothing seems to bother her at all whether it be busy traffic, barking dogs... She has miles and miles of trail experience and is sure footed and as reliable as they get. Music is kind, level headed and very enjoyable to ride. She will stand perfect to mount and dismount, walk on a loose rein, gait on a loose rein, canter, rack at high speeds, go out alone with out a care in the world and she is excellent in groups. Music is easy to handle in every way. She is easy to catch, halter, groom, clip, bathe, shoes and worm. She is a very class mare that will make you feel like a million bucks every time you ride her. Music has been exposed to barking dogs, crowds, busy traffic, semi's birds, deer, wildlife, plastic bags, farm animals, tarps, ATV's motorcycle... Music is calm and gentle enough for adult beginner riders on up. She is patient, gentle and very loving. Music is a lifetime horse that you can grow with as a rider. She is all heart and takes very good care of her rider.
Don't miss this very special girl! She is suitable for beginner riders on up.

Go to www.dreamwalkerhorses.com or call Jenn at 702-468-0915.
Shipping Notes
We arrange shipping nation wide.
---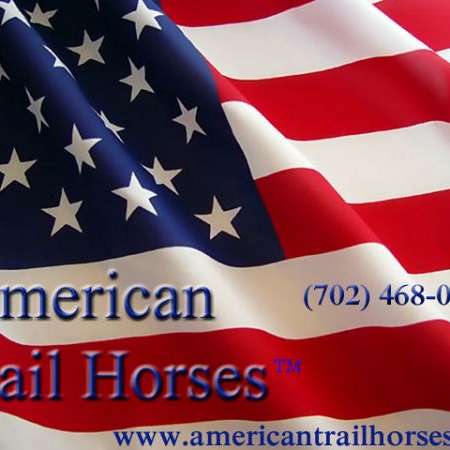 American Trail Horses
We specialize in well trained beginner safe gaited trail and pleasure horses. All of our horses have been exposed to county trails and busy city streets. We expose them to everything we can find so that you have a great trail ride every time. Ride the rest then visit us when you are ready to see the best.