Additional Comments
Dallas, has been one of my trail horses for years now. When I got him he was almost your typical "barrel horse turned trail horse." He was a barrel horse when he was young, so whoever had him, kept that running in his brain as a trail horse. Took him a few rides to learn "hey I can just walk." But he did, and since then has been my go to trail horse for years. I know that even if I don't ride him for 6 months, I can saddle him and go.
Dallas has alot of foundation "using horse" blood in him, and it shows.... (read more) He is VERY solid, sure footed and built. He has never been lame a day, has nice big feet, and GREAT bone structure. He is very much a one handed riding horse. Neck reins great, and even if you run him and get pumped up, you can handle him with 2 fingers on the reins. He is tons of fun to ride, because you can ride quiet and calm, pick up and have fun running, then gear right back down. He likes a soft hand, and listens to what you want. I would not say he is a beginners horse, because we will go if asked, and a tense rider will hold the reins up tight, and make him think there is a reason to be pumped and ready. But if you can ride a horse, ride with a loose rein, and just ask him to do something when you need him to, he will ride all day, every day. This is the most sure footed horse on the place, even at a run, through woods, in rought terrain. He's got the "biggest butt" on the place too.
I will be upgrading this ad to a picture ad soon. You can also find me on Facebook and see pictures of him and others.
Shipping Notes
buyer pays shipping, seller can haul certain distances
---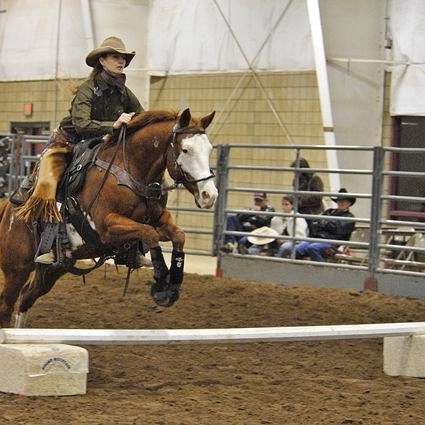 Hanging Hat Stables
Horses for sale (English,Western,Trail), training (Western, starting,competitive Trail, EXCA training), after vet care