Additional Comments
VIDEOS SAY IT ALL:
Watch Video CHICAGO FLAGS RODEO
Watch Video CHICAGO SINGLE STAKE
Watch Chicago W Gavyn Poles CHICAGO POLES RODEO 1/22/11
Watch Chicago W Gavyn Barrels CHICAGO BARRELS RODEO 1/22/11
Watch Video gavyn tarp 5 YR OLD BOY
Watch Video walk trot lope 13 YR OLD GIRL
http://www.... (read more) Watch Foxie Quarter Pony Mare Being Tarped tarped w jonna 13 YR OLD GIRL
Watch Video poles w gavyn 5 YR OLD BOY

MORE VIDEOS TO COME IN THE NEXT 24 HRS FROM OUR LAST RODEO...

THIS IS A SWEET LITTLE MARE SHE IS 13.2 HANDS AND 8 YRS OLD... SHE IS DEAD BROKE FOR ANY LEVEL OF RIDER.... SHE IS A PERFECT STARTER HORSE OR A STEP UP HORSE FOR YOUR LITTLE ONES... SHE HAS BEEN A HUGE ASSET TO OUR FAMILY AS A CONFIDENCE BUILDER.. SHE IS CURRENTLY RIDEN IN THE 6 AND UNDER CLASSES BY MY 5 YR OLD... SHE DOES ALL THE EVENTS.... BARRELS, POLES, KEY HOLE, FLAGS, GRAND ENTRY, SINGLE STAKE, BARREL KEYHOLE, HURRY SCURRY, ECT.... THIS IS A VERY HARD SELL FOR US SHE IS A SUPER ASSET TO US.... JOB LOSS FORCES HER SALE... THIS IS A VERY LIMITED OFFER BECAUSE ONCE OUR UNEMPLOYMENT IS APPROVED SHE WILL NO LONGER BE FOR SALE..... she is a criber. but if you keep a cribbing colar on her she does not crib.
---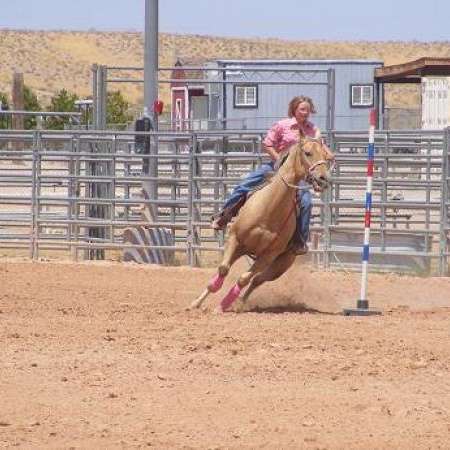 Slick Ponies Ranch
Slick Ponies Ranch Always Proud to offer Quality Family Safe and Proven Rodeo Horses and Ponies. For the past 20 years we have strived to produce the best performance horses for all different disaplines. Our Horses are versital in every aspect of horse eventing. 2014 Standing at STUD: " Tony Tiger Bee" AQHA Grey Stallion Proven sire~~ Rope~ Ranch~ Barrel Horses~~ ~~~Babies have BIG hips and Baby doll heads.... (read more) 2014 Stud Fee: $350 (Live cover only) 2013 Standing at STUD: "ECH MR INDICATIVE"" AQHA Sorrel Stallion Proven sire of ~~Rope~~Reiners~ Barrel Horses~~ Standing in Beaver Dam, AZ Breed fee is $500 (435) 680-5895 Brandy Luscomb 2011 Foals: "Hanckocks Barmaid" Blue roan Filly "Tivios Fancy Carmel" Cremello Gelding "Alota Whimpy N Tivio" Buckskin filly " Dealing out Cash" Black Filly Breeding includes. TIVIO~ DOC BAR~ HANCOCK~DASH FOR CASH~ PEPPY SAN~DRIFT WOOD~ REED~ POCO~ LEO~ EASY JET~ RAISE A NATIVE~ SIR QUINCY DAN~ HUBBA STAR~ GO MAN GO~ BENITO SAN~ BONITA TIVIO~ 2012 foals are Here!! "PAY CHROME IN CASH" AQHA Stallion. Breeding includes: First Down Dash~~ Dash For Cash~~ Proudest Effort~~ Special Effort~~ Bred for Speed and Conformation.. This is our next standing stallion in 2015... He will be offered for sale at the price of $50,000 2012 AQHA "Sorrel Filly" super conformation and color.. and Exceptional Breeding.. 2012 foals Breeding includes: SIR QUINCY DAN~ MR. INDICATIVE~ HOOKED ON RUN~ DASH TO FAME~ PROUDEST EFFORT~ SPECIAL EFFORT~ SOLD SHORT,~ROCKET BARS~ DOC BAR,~EASY MOVE~ JET ON~ POCO POBOY~ RAISE A NATIVE~ EASY JET,~HUBBA STAR~ Slick Ponies Ranch strives for excellence in the performance industry. We also offer very nice REGISTERED QUARTER PONIES. If you are looking for a great bred horse with a great mind give us a call. (435) 680-5895 Join us on Facebook. http://facebook.com/Slickponiesranch