Additional Comments
Super sweet, gentle loving horse. Splash is a loving beautiful boy! He is very easy on the eyes and very therapeutic for the soul. He is like riding a puppy dog! Splash has a shiny, soft coat with a blond flaxen mane and matching tail. He has the looks of a show horse and the intelligence of a great trail horse. Splash has an excellent pedigree and is out of a JFK mare. He is calm, gentle and super smooth to ride! Splash is one of those horses that ride great all the time.... (read more) He is easy going, consistent and reliable. Splash knows his job and does it extremely well. He is a great horse that makes trail riding fun and enjoyable every time. He has a phenomenal mind and does not seem to be bothered by anything on the trail. He has excellent confirmation and a beautiful head. Splash has a lovely demeanor and is wonderful to handle on the ground or in the saddle. He is a horse that just about all level of riders can enjoy. He will walk along calmly as long as you want and gait happily for those who want to move out. Splash has a canter that is an absolute joy to ride and he will transition super smoothly in and out of it. Splash aims to please and is always a great ride! He is not spooky and extremely confident on the trail. Adults and younger children have rode Splash in the past. He is now currently looking for his next trail partner. Splash has been exposed to traffic, ATV's, deer, turkeys, dogs, plastic bags, high winds, leaf blowers, strollers, bikes, water, wildlife and city life. He will stand quiet to mount/dismount, bathe, clip, groom, tack up... He is easy to handle and wonderful to ride. When it comes to gaiting they don't get any better than him. Watch us ride him bareback and with a saddle. You just don't move when you are in the saddle, he is super smooth. This horse is wonderful on the trail. He will go out alone without an issue and is wonderful in a group. He will lead, follow, stay behind, split off from the group, it doesn't matter to him. Splash is the type of horse you will build a lifetime of great memories with. Don't miss this special guy.

Call Jenn at 702-468-0915 for more details.


Shipping Notes
We arrange shipping nation wide.
---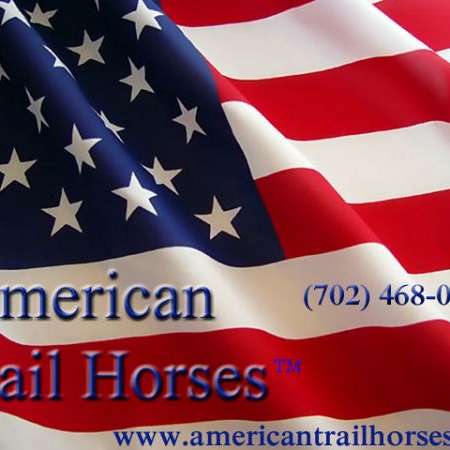 American Trail Horses
We specialize in well trained beginner safe gaited trail and pleasure horses. All of our horses have been exposed to county trails and busy city streets. We expose them to everything we can find so that you have a great trail ride every time. Ride the rest then visit us when you are ready to see the best.