Additional Comments
BUY BEFORE 6PM SUNDAY AND HE IS ONLY $1200 THIS IS A $700 SAVINGS~~~~~!!!!!
ULTIMATE KIDS HORSE~~~ROPES~GYMKAHNNA~TRAILS~~RANCH BROKE~~ SORTING~PENNING~ GREAT ALL AROUND HORSE~~~THIS IS A SUPER SUPER NICE HORSE.. HE IS VERY WELL PUT TOGETHER AND VERY VERY EASY TO HANDLE, HE LOADS GREAT EASY TO HANDLE HIS FEET, HE IS VERY EASY TO CATCH~~~ HE IS A GOOD LOOKING HORSE WITH TONS OF CONFIDENCE BUILDER ABILITY... HE IS A MUST SEE... XMAS IS COMING~~~ WILL HOLD FOR THAT PERFECT GIFT~~~ CHECK OUT HIS VIDEOS:
http://www.... (read more) Watch Ranch Hand w Gavyn Video RANCH HAND W GAVYN
Watch Video RANCH HAND W ROPE
Watch Video RANCH HAND TRAIL
Watch Video RANCH HAND UN SADDLED

WORDS CAN NOT SAY ENOUGH GOOD ABOUT THIS HORSE... HE IS A SUPPPPPPER NICE HORSE..
---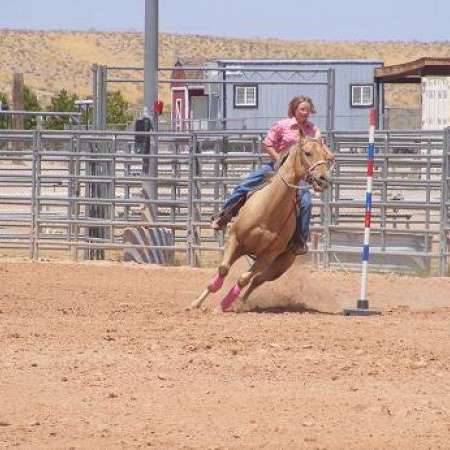 Slick Ponies Ranch
Slick Ponies Ranch Always Proud to offer Quality Family Safe and Proven Rodeo Horses and Ponies. For the past 20 years we have strived to produce the best performance horses for all different disaplines. Our Horses are versital in every aspect of horse eventing. 2014 Standing at STUD: " Tony Tiger Bee" AQHA Grey Stallion Proven sire~~ Rope~ Ranch~ Barrel Horses~~ ~~~Babies have BIG hips and Baby doll heads.... (read more) 2014 Stud Fee: $350 (Live cover only) 2013 Standing at STUD: "ECH MR INDICATIVE"" AQHA Sorrel Stallion Proven sire of ~~Rope~~Reiners~ Barrel Horses~~ Standing in Beaver Dam, AZ Breed fee is $500 (435) 680-5895 Brandy Luscomb 2011 Foals: "Hanckocks Barmaid" Blue roan Filly "Tivios Fancy Carmel" Cremello Gelding "Alota Whimpy N Tivio" Buckskin filly " Dealing out Cash" Black Filly Breeding includes. TIVIO~ DOC BAR~ HANCOCK~DASH FOR CASH~ PEPPY SAN~DRIFT WOOD~ REED~ POCO~ LEO~ EASY JET~ RAISE A NATIVE~ SIR QUINCY DAN~ HUBBA STAR~ GO MAN GO~ BENITO SAN~ BONITA TIVIO~ 2012 foals are Here!! "PAY CHROME IN CASH" AQHA Stallion. Breeding includes: First Down Dash~~ Dash For Cash~~ Proudest Effort~~ Special Effort~~ Bred for Speed and Conformation.. This is our next standing stallion in 2015... He will be offered for sale at the price of $50,000 2012 AQHA "Sorrel Filly" super conformation and color.. and Exceptional Breeding.. 2012 foals Breeding includes: SIR QUINCY DAN~ MR. INDICATIVE~ HOOKED ON RUN~ DASH TO FAME~ PROUDEST EFFORT~ SPECIAL EFFORT~ SOLD SHORT,~ROCKET BARS~ DOC BAR,~EASY MOVE~ JET ON~ POCO POBOY~ RAISE A NATIVE~ EASY JET,~HUBBA STAR~ Slick Ponies Ranch strives for excellence in the performance industry. We also offer very nice REGISTERED QUARTER PONIES. If you are looking for a great bred horse with a great mind give us a call. (435) 680-5895 Join us on Facebook. http://facebook.com/Slickponiesranch