Additional Comments
UPDATE: This mare has had thrush on her fronts and problems with her heel bulbs. We've been working on getting her sound, but we still can't sell her as 100%. The vet who x-rayed her said exercise is great...and Tia has been down the trail with us, without favoring those front feet very much at all. Some days, she's more off than others and it's been frustrating because she is just so good about everything. We have her priced REALLY low...a steal even for a broodmare.... (read more) Own daughter of Zips Chocolate Chip. "Tia" is Western Pleasure bred to the max. She has excellent conformation, an unbelievable jog trot and has a very sweet, gentle temperament. She was successful in the show ring as a young mare and then had several foals who were also pleasure winners. Tia has shown us her versatility this fall by going out on the trail. She isn't at all spooky, will lead or follow and is well-mannered with other horses around her. Tia doesn't have any vices and would be great for kids doing lead-line, or a confident beginner out on the trail. Tia loads well, clips, bathes, ties, is great for the farrier and vet, and has all-round exceptional ground manners. She's up to date on everything, including a recent dental float and a chiropractic check-up. Please email brjensen21@hotmail.com if you are interested in Tia. $800 obo.
---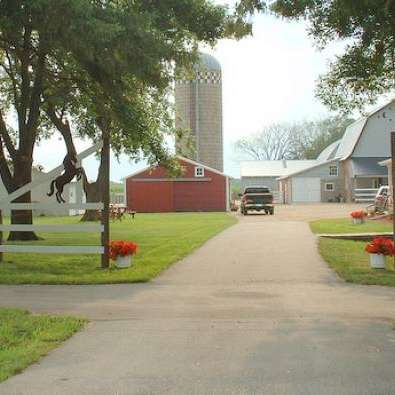 Fort Ridgely Equestrian Center
Our farm is located just north of Fort Ridgely State Park, in the scenic Minnesota River Valley. We offer full boarding, guided trail rides, lessons, and training.