Additional Comments
UPDATE: I'm REALLY needing to make room for boarders, so several horses that I have for sale are drastically reduced!! Prices are still negotiable to the right homes. I raised Perzal, hoping that he would be tall. He doesn't look like he's going to be what I had hoped and I need to make room and time for other horses. He's the last son of Perlladdinn and has his daddy's wonderful show-halter conformation along with his mama's love of the trail. Perzal has been down the trail a couple dozen times, and isn't choosy about going out alone or leading or following a group.... (read more) He just loves being out and about. He's got very natural impulsion, especially at the canter, and would be a super western or english pleasure prospect. He's still got a "boyish" attitude and if he hasn't been worked in awhile, he can be very energetic and a little feisty. Work him consistently, and he's quiet and relaxed. He'd be an exceptional endurance mount for a smaller rider; he's got a big walk, nice trot and canter, is sure-footed and DOESN'T anticipate lions and tigers and bears around each corner. I'm hoping to find a really good home for this guy (my baby!) and am negotiable on his price. $500.
---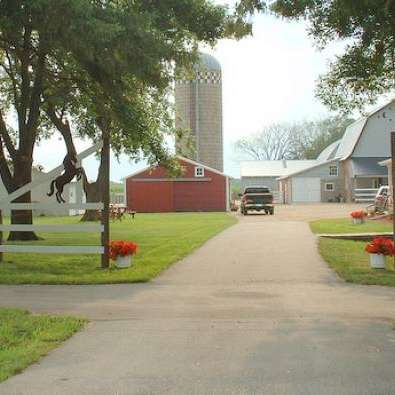 Fort Ridgely Equestrian Center
Our farm is located just north of Fort Ridgely State Park, in the scenic Minnesota River Valley. We offer full boarding, guided trail rides, lessons, and training.