Additional Comments
SOLD: This guy came in from a rescue situation and I agreed to find this sweetie a new home. I am just looking to place in a new home who will love on him and hopefully recover some of my vet bill paid. His value is far more then stated. Trigger has been a breeding stallion for a farm but his owner is sick and needed to place him fast so he came here. We took Trigger before he went to the auction because he was too nice. This gelding is stable, steady, sweet and a very happy horse.... (read more) He was kind as a stud and even kinder as a gelding so leads past all horses with just a halter and a lead rope. He does not act like a recently gelded stallion. His swelling is now gone from being gelded so he can now have visitors. As a trainer I know he will make someone a very nice trail horse with some tune up under saddle. I do have the phone number for his past owner if you want to pursue getting his papers. Registered name is Trigger a Golden Chance. Trigger loads and hauls, trims, stands at hitching post, touch anywhere, catch easy and green broke. Mauls me for apples too and likes people. Will need 60 days tuneup in his riding for a beginner or intermediate riders. Has not been ridden in a while but this is a mellow horse who enjoys being worked so he will make a nice riding horse. I have found no issues with this guy & excellent ground manners. Too nice to chance the meat buyers at auction. Has NO conformation faults, nice legs/feet and no health issues. I have some November 2010 photos to share as well.
Shipping Notes
I can ship locally for extra.
---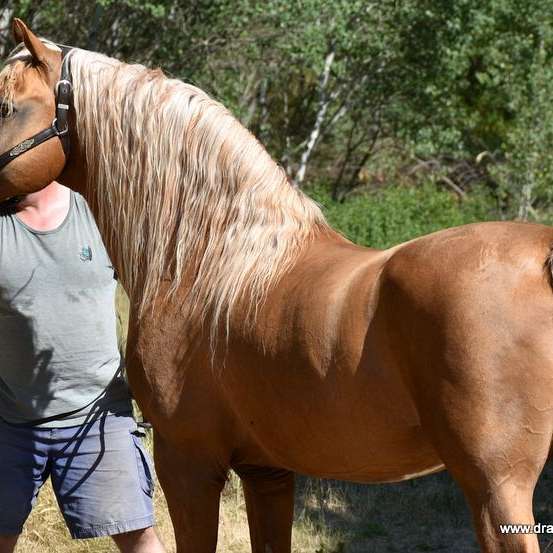 Dragoon Morgans & Studios
In Morgans since 1964, we are standing cremello and bay Morgan stallions at stud to all breeds and gorgeous Morgan foals for sale now and then. We only have a few foals and they are always well handled since birth, trained and shown before sold. Our foals are always well started, mellow, kind, load, stand tied, go to shows starting at a young age, etc. We continue their training until sold then breed a foal or two.... (read more) We are not large breeders but the ones we sell are trained a lot before leaving us with their ground work. Once we sell a foal than we breed back and start the process once again. Sorry we do not work outside horses or board them but we can refer you to people who do that. We only have enough time to train and sell our own horses. We do volunteer with Rough Start Horse Rescue to work and market some of their homeless horses since 2010. We take in Morgans and crosses from Rough Start Horse Rescue to foster, train and find homes. I attend many of their events and shoot photos for them as well. See Dragoon Studios on Facebook or www.dragoonstudios.net Secretary of the Spokane Morgan Club, www.spokanemorganclub.org to see stallions at stud, horses for sale, events and more.