Additional Comments
7 yr old pony with POA characteristics but parentage is unknown. Sandy has been ridden by kids at their farm, and she's also been down the trail and has been to town a couple times. She's a pony who would rather walk than do anything faster, but an assertive rider can get her to trot. She isn't spooky and goes through creeks, mud, puddles, across bridges, and handles steep hills with the sure-footedness of a pony. She doesn't rush through anything, and she can lead or follow.... (read more) Not mare-ish with other horses on the trail or in the arena. Holds her own in the herd, but isn't "mean" bossy. Sandy is a friendly pony with good ground manners, easy to catch, picks up her feet easily and rarely needs trimming. She jumps in the trailer and hauls well. Easy-keeper, and has never foundered. Sandy isn't a complete dead-head, because she is alert and not draggy. But she has been handled by beginners and is safe to be around. She's never bit or kicked anyone. Sandy is only being sold because her owner has outgrown her. She is healthy and sound and has been kept up to date on deworming, vaccinations, and trimming. $450.
---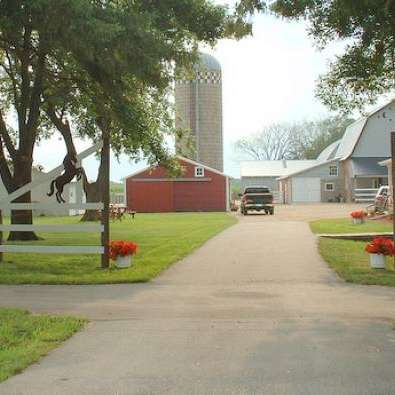 Fort Ridgely Equestrian Center
Our farm is located just north of Fort Ridgely State Park, in the scenic Minnesota River Valley. We offer full boarding, guided trail rides, lessons, and training.