Additional Comments
Percy's sire, Werblin, is well bred for eventing. On this side one will find Fappiano, the USEF Leading Event Sire from 2002-2006. Also, Caro, who sired an Olympic Show Jumper, a Kentucky Derby Winner, and several other event, steeplechase, and show jumping champions. Other famous Event sires from this side include Wild Risk, Forino, In Reality, and Le Fabuleux. Roman, Hail To Reason, Mr. Prospector, and Prince John are all known for their show jumping offspring.... (read more) Other famous sires on this side of Percy's pedigree include Unbridled, Raise A Native, Crozier, Balladier, and Double Jay. Noteworthy mares in Werblin's pedigree include Magic, Life Hill, and En Casserole.

Percy's dam, Merry Motel, is well bred for show jumping. Her grand-sire, Sir Ivor, was named in the French Annual Book of Sport Horse Breeding as the Thoroughrbed sire with the greatest influence on the International Show Jumping scene world-wide. He also sired Grand Prix show jumpers and Advanced Level Eventers. Merry Motel also goes back to the show jumping sires Prince Rose, TV Lark, Turn To, Nasrullah, and Princequillo. Bull Dog, Mahmoud, and Royal Charger are all known for passing on their soundness. Percy also goes back to Quack, Sir Gaylord, Djebe, and Count Fleet on this side. Interestingly, Percy's grand-sire, Bates Motel, is the great-grandsire of the famous Curlin. Influential mares in Merry Motel's pedigree include Attica, Something Royal, Source Sucree, Imperatrice, Salaminia, and Honor Bound.

Simply put, Percy is bred to jump. Both sides of his pedigree include some of the most influential show jumping and eventing sires of all time. We expect Percy to be quite large, as he's already almost a hand taller than our other two year olds. He will probably mature to 16.2+, with plenty of substance.

See www.abbeymoorfarm.com for more information and pictures on Percy and his parents.
---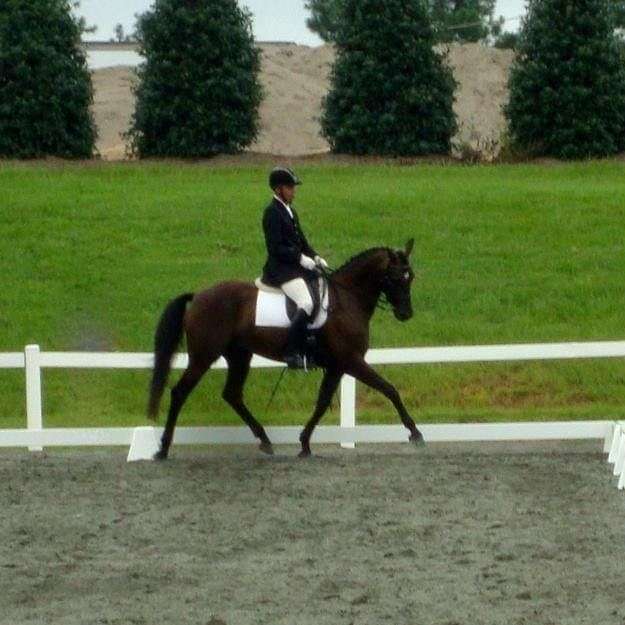 Abbeymoor Farm
Abbeymoor Farm, LLC is interested in providing customers with horses that truly fit their needs. We specialize in dressage, eventing, and problem horses. We have a wide variety of horses, ranging from young prospects to proven competitors. All are quality animals, and have excellent temperaments. If you're looking for something and do not see it here, we more than likely have it in our barn, but have not gotten around to putting the ad up yet, so feel free to contact us.