Additional Comments
Max is by our stallion, Moorpark Image, out of the Thoroughbred mare, Fair Peak. Fair Peak, or Faith, goes back to Sir Ivor, who was identified as the Thoroughbred sire with the greatest influence on the International Show Jumping scene world wide by the French Annual Book of Sport Horse Breeding. Other influential jumping sires include Nearco, Native Dancer, Tom Fool, Northern Dancer, Menow, Hyperion and Turn To. Royal Charger and Mahmoud are known for passing on their soundness.... (read more) Sir Gaylord, Pharos, Raise A Native, and Nearctic are other notable sires in Faith's pedigree. Many of the aforementioned horses are also known for passing on lovely temperaments. Some notable mares in Faith's pedigree include Natalma, Almahmoud, Attica, Raise You, Bimlette, Nogara, Sister Sarah, Geisha, Something Royal, Sun Princess, and Bloodroot.

Max is a good mover, with an excellent walk and canter. Like most Image babies, he has been very easy to back, and is currently going walk/trot under saddle. Max is an excellent choice for someone looking for a young event prospect. He will be shown in the Young Event Horse Series.

See www.abbeymoorfarm.com for more pictures and video of Max, along with information on his sire, Moorpark Image.
---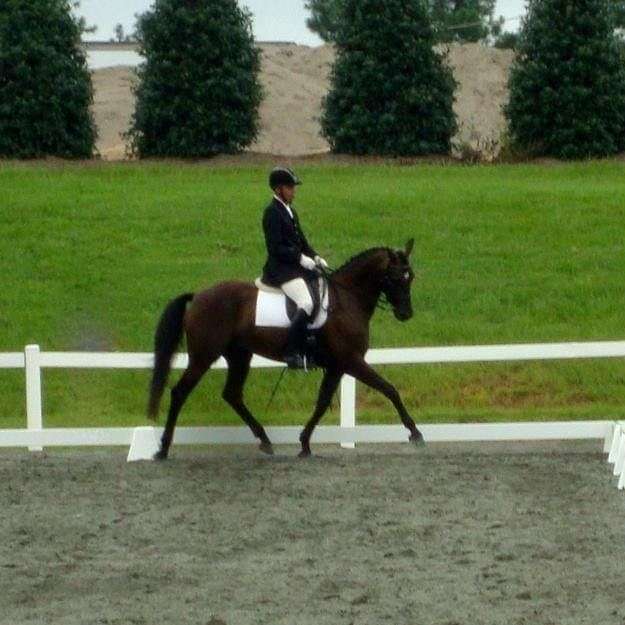 Abbeymoor Farm
Abbeymoor Farm, LLC is interested in providing customers with horses that truly fit their needs. We specialize in dressage, eventing, and problem horses. We have a wide variety of horses, ranging from young prospects to proven competitors. All are quality animals, and have excellent temperaments. If you're looking for something and do not see it here, we more than likely have it in our barn, but have not gotten around to putting the ad up yet, so feel free to contact us.