Additional Comments
Beautiful, kind and gentle gelding that the whole family can enjoy. CJ is suitable and broke enough to be a therapy horse. He is extremely calm and laid back with an easy going attitude and a spook free ride. Nothing bothers Cracker Jack on the trail or anywhere. He just has that easy going way about him. He is very calm, very sensible and very smooth to ride! CJ is a beautiful bay tri color gelding with a thick black mane and tail. His coloring is perfect and he has dark, gentle kind eyes to match his overall kind personality.... (read more) CJ is a very reliable trail mount. He is not bothered by anything and would make an excellent horse for anyone who is timid or scared. CJ is also a great babysitter for the kids. He is super easy to ride and does not have a mean bone in his body. He has a sweet personality and loves to be around people. CJ is a horse that guests, husbands, elderly and family members with little or no experience can enjoy as well as you. CJ has been a trail horse his entire life and it shows in his cool, easy going ways. He is the same hors if you ride him everyday or once a month. CJ will stand to mount/dismount , walk on a loose rein, gait on a loose rein, listens to leg and verbal cues, goes out alone or with a group, hops on and off the trailer and gets along great with other horses. CJ has a super smooth gait that he will do slow or fast for you. Ask him and he will gait for you with no special cues or input. CJ has been exposed to traffic, dogs, plastic bags, guns being fired off, wildlife, ATV's , bicycles, children at play... CJ is not spooky acting at all. He is trustworthy and steady on the trail. He will crossing water, climbing steep hills, carefully maneuver his way down hill and go wherever you want to go. His ground manners are excellent and he is as sweet as can be. CJ will stand quiet in the cross ties, to groom, bathe, clip, shoe, worm, saddle, bridle... He is a level headed, mature and easy going horse. Absolute beginners, first time riders on up will love riding this horse!

See over ten videos of CJ and many more pictures at www.dreamwalkerhorses.com
Call Jenn at 702-468-0915 for more details.
Shipping Notes
We arrange shipping nation wide
---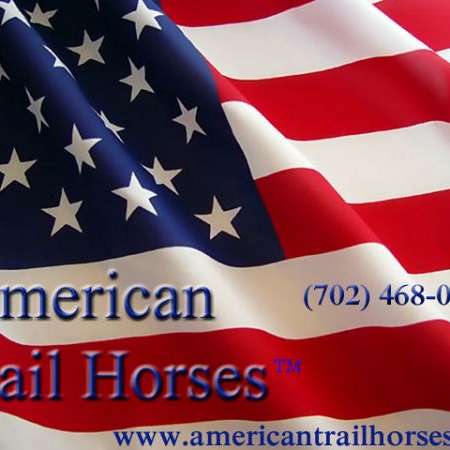 American Trail Horses
We specialize in well trained beginner safe gaited trail and pleasure horses. All of our horses have been exposed to county trails and busy city streets. We expose them to everything we can find so that you have a great trail ride every time. Ride the rest then visit us when you are ready to see the best.