Additional Comments
"Carson" is a pretty good all around horse. He is a sweet heart and has a personality plus. Started on the barrel pattern now. He is doing great loping through the pattern. Knows his leads and is doing simple lead changes. Has alot of rate to the barrels. Will walk through the pattern with his head down. You can lope through and half way back from the 3rd barrel ask him to stop and walk back quietly. Is good at the gate and alley way. Has a good stop.... (read more) Starting to spin. Moves off leg well. Very pretty mover. Would make a great high school rodeo horse. He is very willing to please and will give you his all. Is a great trail riding horse as well. Just rode him out the other day over bridges and thru rivers. We rode up on a herd of elk and he didnt seem to care. Nothing bothers him. Anyone could ride him on the trail. Just a real good horse to be around. Has no vices. He baths, clips, loads, hauls, ties, and stands good for the farrier. Is up to date on everything. This horse can go any direction! He is really enjoying his job as a barrel horse now and is always the first horse to meet you at the gate and is ready to work. You can view his pedigree on this site http://www.allbreedpedigree.com/chocolatechipshowdown Go to this link to view his video Watch Chocolatechipshowdown Loping Barrel Pattern

Please call or email for more pictures, videos and info. Thanks for your time.
---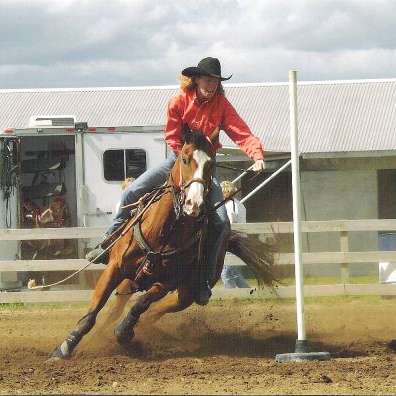 Casselman Carriage Company-Kp Clydes Quarters Ran
We have a beautiful 80 acre ranch. We have an indoor arena that is 60x120. An outdoor round pen. Lots of green pasture with lean toos in them for weather pertection. Our pastures only hold certain amounts of horses in each one to ensure that the pastures will not be eaton down to the dirt. Our stalls are all 12x12 and they all have stall mats in them. They also have insulated bucket holders as well for when cold weather hits they dont ice over.... (read more) They get cleaned on a daily basis. We have a heated wash rack with cold and hot water. There is a farrier on site at all times. The horses are turned out during the day if weather permits. We have good quality hay. We have everyone keep up on vaccinations and deworming to provide a safer enviroment for the horses here. We specialize in barrel racing, roping, and black Clydesdale horses. We like to have a very laid back enviroment at this ranch. We treat your horses like they are our own. We are now a carriage company as well. We get hired to do everything from weddings to just carriage rides around town. We have horses of all ages for sale at all times. Call or email to find out availability for our carriages rides. Come check us out!