Additional Comments
DRASTIC PRICE REDUCTION!! Really nicely put-together rose-grey filly. Gem had over 60 days training this summer and she's ready to go. She is 3 yrs old, stands just 14H and is a wonderful trail horse. She's an Arab cross and is smart, willing, independent and is very forward on the trail. With a low heart rate at all 3 gaits, and very quick recoveries, she's an ideal horse for endurance, competitive trail or gaming. She's very sane and figures things out quickly.... (read more) This little mare would be super for a small adult or confident young rider who wants to be competitive or just wants a forward trail horse. Gem has excellent ground manners, crosses water, bridges, is calm with heavy traffic, and is used to our dog running in and out of the woods. She gets along well in a herd and is lower in the pecking order. UPDATE: Gem has been started on patterning for poles and barrels and she LOVES it. She's VERY quick and agile; responsive to leg and figures out really quickly what you're asking. She side-passes, 2-tracks, backs, and works the barrels like that's what she was meant to do in life. She was switching leads after just a few times through the pole pattern. She's very focused doing pattern work. She's healthy and sound, had her teeth floated this spring and is up to date on vaccinations and deworming. Gem's got hard hooves that don't need shoes. We've lowered her price to $500 in order to make room for our winter boarders.
---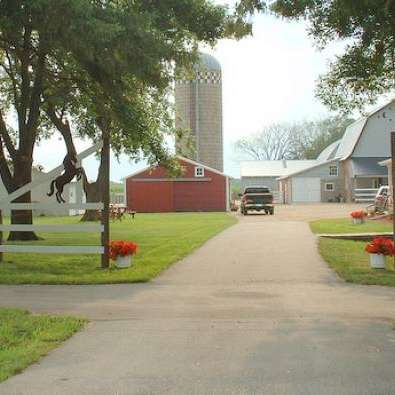 Fort Ridgely Equestrian Center
Our farm is located just north of Fort Ridgely State Park, in the scenic Minnesota River Valley. We offer full boarding, guided trail rides, lessons, and training.