Additional Comments
His pedigree can be seen at http://www.allbreedpedigree.com/hillbilly+rockstar2

Rockstar is a solid blood bay with 2 hind socks and a small star on his beautiful face. He has very nicely shaped ears, thick full mane and tail, great muscles, and great legs. He is a very good looking horse and photos do NOT do him justice- you must see him to appreciate him. He is still growing and will be a thick, stout, bulldog of a horse.

Rockstar is just under 14.... (read more) 1hh right now, and I believe he will mature to 14.2 or 3. He turned 3 in August of 2011, has had groundwork since he was 2 months old, has been hauled around to see the sights, and has been started under saddle. He is not spooky at all, is tough and strong, great with everything, and everyone loves him. He gets along with other horses of all genders and ages. His maternal sister is a barrel horse, and I believe he will be very fast and tough enough to be a rodeo horse.

He is extremely gentle and calm, and will make a good horse for just about anything. He will be the kind of horse who will pack kids around, go up the mountain trails, pack an elk back out, and go to the rodeo to win a barrel race for you on the weekend. He is easy to train, loves people, and is going to be great.

I have and have had several of Rockstar's siblings by the same sire, and they are very nice, sound, gentle horses. I also have his maternal half-sister Missy who is my favorite horse in the world! She is fast and super sweet tempered. Rockstar has most of Missy's good qualities, as well. If he never sells, I will be thrilled to keep him until the day he dies of old age.

I reserve the right to refuse to sell Rockstar to anyone for any price for any or no reason.

Rockstar is currently being started under saddle, and is very easy to train. As he stays with me, we will begin to focus on his barrel racing and breakaway roping career. He is going to be one heck of a horse!!!
---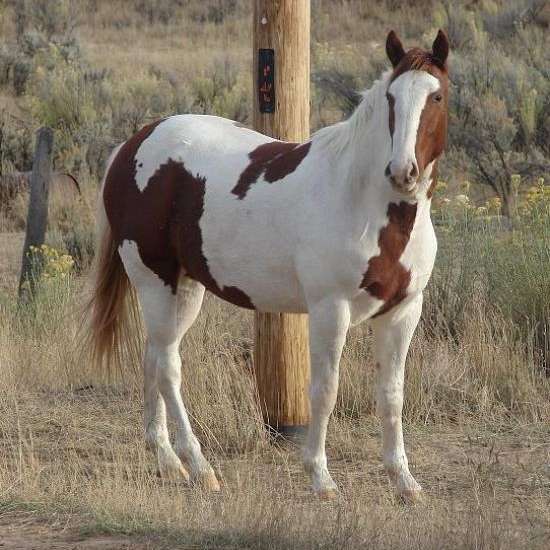 Cream of The Crop Barrel Horses
We specialize in breeding and training high-quality barrel horses with great bloodlines. We also have a few trail horses. We offer quality horse training and riding lessons to the public, and a few select horses for sale.