Additional Comments
Pride is an extremely gentle, loving, very dark, black bay gelding. You can do anything with Pride, he has no bad habits, but needs some learning. Will make a fabulous gelding for a child once trained of course, he just has a built in gentle nature that is uncomparable. Jumps right in the trailer, will to do anything asked, touch anywhere and is just a fabulous gelding. He is only two so we are starting his ground driving soon and already started under saddle although too young to ride yet, but price will go up as we get in more training for him.... (read more) Pride is already 15H as a two year old so will be big enough for anyone to ride him once he is broke. Pictured in the last of his winter woolies 5/2010. Will trade for a regsitered Morgan mare or broodmare. Please send photos and papers on your mare. Thanks. More photos on this page of our web site: http://www.edragoon.com/training/id131.html from March 2010.
---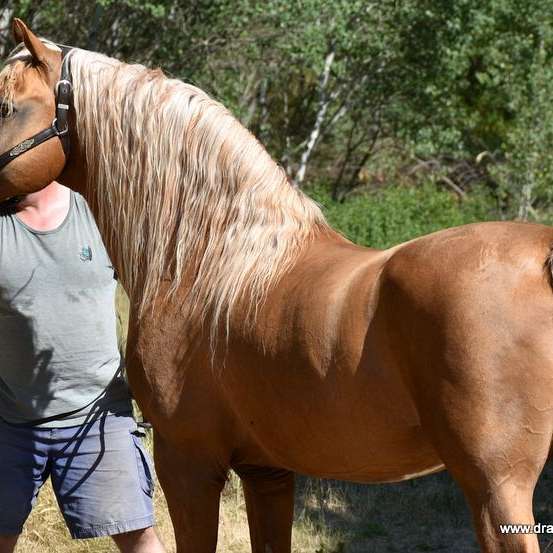 Dragoon Morgans & Studios
In Morgans since 1964, we are standing cremello and bay Morgan stallions at stud to all breeds and gorgeous Morgan foals for sale now and then. We only have a few foals and they are always well handled since birth, trained and shown before sold. Our foals are always well started, mellow, kind, load, stand tied, go to shows starting at a young age, etc. We continue their training until sold then breed a foal or two.... (read more) We are not large breeders but the ones we sell are trained a lot before leaving us with their ground work. Once we sell a foal than we breed back and start the process once again. Sorry we do not work outside horses or board them but we can refer you to people who do that. We only have enough time to train and sell our own horses. We do volunteer with Rough Start Horse Rescue to work and market some of their homeless horses since 2010. We take in Morgans and crosses from Rough Start Horse Rescue to foster, train and find homes. I attend many of their events and shoot photos for them as well. See Dragoon Studios on Facebook or www.dragoonstudios.net Secretary of the Spokane Morgan Club, www.spokanemorganclub.org to see stallions at stud, horses for sale, events and more.