Additional Comments
Been there done that games mare, granddaughter of THREE BARS! Can run a 22 pole and knows all the games events. Will even jump for 1 jump scurry at a dead run! She has won money running barrels. Quiet, easy going and a JOY to handle and be around! 100% sound & NO VICES OR GATE ISSUES! Great 4-H, WSHET/OSHET or move up horse. Dont let her age fool ya! She still has it, no whip or spur needed on her. She will go and is VERY quick, so she is not for a shy/novice rider.... (read more) I got her for my 10 yr old daughter but she is just tooo quick for her at this time! I ride her and think she's a a blast. Have ran some pretty good times and even won rez high point on her at our 2 show! Great on the trails, on the road and in the pasture to ride! Ties, clips, bathes, X-ties, easy to catch and load. Has GREAT feet, had 3 foals as well. NOT FOR TRADE OR LEASE - CASH ONLY!
---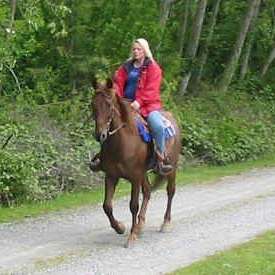 All Gaits Training & Riding School
Over 35+ years in the horse industry training and working under numerous nationally known trainers! Cert TWHBEA instructor, former 4H, Open and OHSET judge!