Additional Comments
CSS RIS KEY HUSTLER- APHA
STANDS 15 HANDS ONLY 3 yrs OLD NOW and growing still!

CSS RISKY ICEMAN X INDIANS DAYDREAM
HAS BEEN CLIPPED, BATHED, BLANKETED, TRAILERED, TIED TRAINED, HANDLED SINCE BIRTH. HAS HAD SOME LUNGING, TO GET HIM USED TO FORCED EXERCISE, AND LEARNING WORD COMMANDS. SUPER NICE BIG COLT!! SUPER SHOW STALLION PROSPECT! DONT MISS OUT ON THIS SUPER CORRECT COLT WITH SO MUCH PROMISE.
He has now been hand bred to 2 mares and had no problems there, we will know soon the results of this breeding if they did take.... (read more)
PEDIGREE

DOUBLE DILUTE TOBIANO COLT CREMELLO tested. Heterozygous tobiano. Stallion and performance prospect. pictured 06/2011

Here is a colt that will be able to go many directions and be able to win for you in most events. Prospect for reining, roping, team penning, and later go on to stand and to produce great color, quality foals, for guaranteed dilute color on your mares, with the exception of gray mares.
This colts pedigree includes such greats as Riskey Business, Champion and champion producer in APHA. Riskey Business sired the 2 top winning stallions in APHA History: Strait From Texas and Riskey Mastrepeice. Dams side includes halter Man In Command:AQHA H-114/P-121 1974,1976,1977 World Champion Superior Halter-1975, ROM Performance-1975, AQHA Champion-1977 , Jetalong TB : race money earner, Sire of: Wrld Ch, Supr Hltr, Supr Perf, Race & Arena Perf, AQHA/APHA Ch, Bearcat: APHA Champion, National Halter Champion, Superior Halter (7 Grands & 6 Resv), ROMs HUS, Reining, WP, Leading sire, Skips Stacked Deck:1986 Superior, 1976 APHA Champion, 1973 Reserve National Champion to name a few but not all.
With combination of performing and halter to round him out for all around good looking athelete with his great color for long term breeding and serious conisouer of horses who have it all. He is huge and we expect him to mature to at least 15.1 hands.

He carries the bay and red gene. Will produce palomino and buckskin can be produced on bay mares and smokey black or smokey grulla, dunskins, dunalino on a duns even, as well as perlino/cremello/smokey creme on dilutes.

regular $2400.00
Has been blanketed, clipped, trailered, current coggins, knows word commands. Stalled daily and turned out. Hoof care, and vaccinaions, deworming all up to date.. his price will go up the more he is ridden, started riding first of November, never bucked, rode like he was born to it!. Rode out the 3rd day!! He had 45 days riding over various rough terrain, road riding, water, hills, logs, ravines he did it all no problems and in a group of horses also.

BEST BUY!!!!!!!!! $$$$$$$$$$$$$$$$$$$$$

NEW LOW PRICE NEED TO CUT DOWN!! YOUR GOOD FORTUNE.
Shipping Notes
ALL EXAMS WELCOME AT BUYERS EXPENSE. ALL SHIPPING AND RELATED CHARGES AT BUYERS EXPENSE. 50% DEPOSIT WILL HOLD. FINAL PAYMENT CASH AT PICKUP. PAY PAL AD 3.5%.
---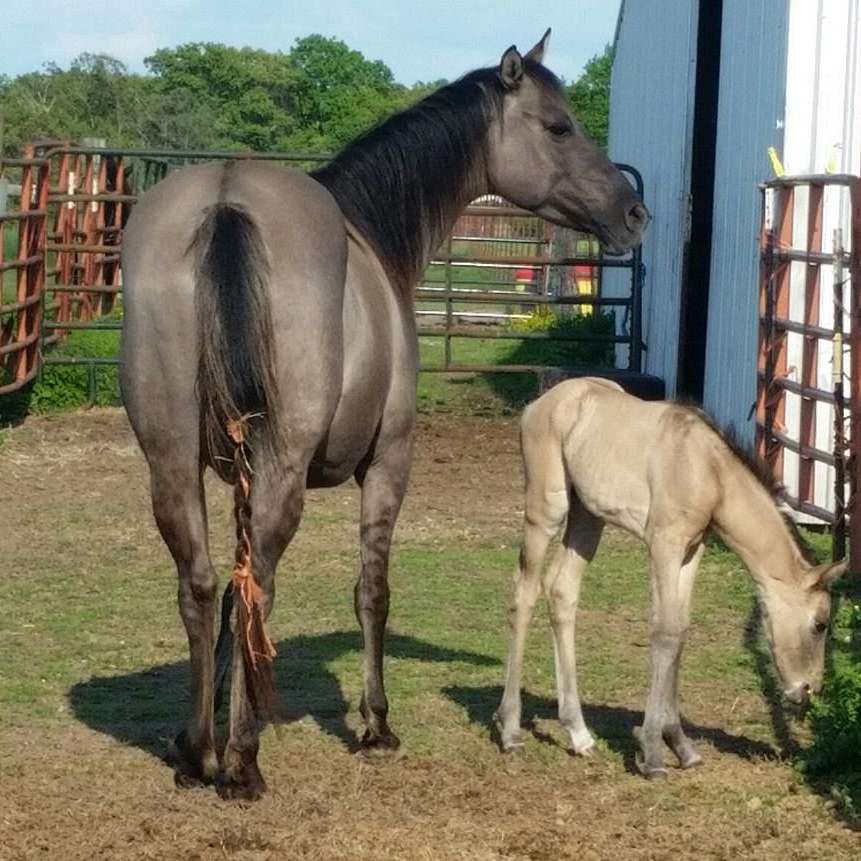 Chambers Springs Stables
Producing performance paints and quarter horses with color, class and style. Palomino, buckskins, blacks, roans, grulla, duns and more. We have some very nice prospects with excellent bloodlines at most anytime, foals, and package deals also.