Additional Comments
Wow! I challenge you to find a more beautifully colored colt this year. The pictures say it all for this guy. He is a very leggy colt, and should be pushing 16 hands when he matures. He is correct in every way. This colt could win for you, will be the first noticed anywhere you go, or could be a great stallion prospect. Quality bloodlines and tremendous color. With his height potential he might make a great sporthorse, too. See Pedigree at: http://www.allbreedpedigree.com/dukes+hazzard
Shipping Notes
Shipping is available from 3 Sevens based on current fuel prices, currently $.90 per loaded mile.
---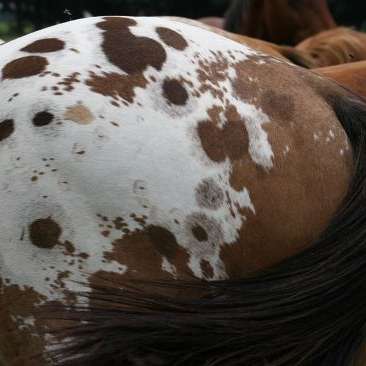 3 Sevens Ranch Appaloosas
The 3 Sevens Ranch was founded with the goal of producing outstanding appaloosa horses that can be shown competitively, or loved and enjoyed as an exquisitely beautiful and capable companion. Roger Haight has over 50 years experience working with appaloosas. His son Brian grew up with them and took graduate level classes in equine nutrition, reproduction, and behavior, as well as being trained as a farrier (horseshoer).... (read more) Both expressed a desire to produce great all-around horses that can compete at halter and perform well at a variety of tasks. Starting in 1997, they began searching for the right stallions and mares to make this dream a reality. While they will never stop trying to improve their horses, the 3 Sevens believes they have reached their goal. Their foal crops have outstanding conformation, a lot of personality and a willing attitude, amazing color, and the ability to do almost any task you'd like. The 3 Sevens has recently been introducing some new broodmares into the herd to better equip foals for certain tasks. A select group of foals are now available that should excel at ranch and cow horse activities. They are also incorporating racing blood into some breeding that should make for excellent barrel horse prospects. The goal is to maintain superior conformation, structural soundness and color so that these performers will be the healthiest, best looking and most eye catching horses in their events.