Skills / Disciplines

Beginner, Driving, Experienced, Finished, Flashy, Jumping, Kid Safe, Lesson, Parade, Pleasure Driving, Ridden English, Ridden Western, Show, Trail Riding, Trained, Youth
Additional Comments
Little Britches is a 9 year old 10.0 hand buckskin pony gelding. He is absolutely adorable but the thing about this pony is that he is not just adorable, he's also the best pony. If you are looking for exceptional he is exactly that. By far one of the nicest small ponies we have EVER owned. I looked for a very long time trying to find a pony like this for my son to enjoy and Little Britches honestly went above and beyond what I could've ever imagined.... (read more) I didn't even know if ponies like him existed because yes, he is that perfect. With kids safe is key and a top priority and he is as safe as you can find one. Little Britches is safe for the tiniest child. The kids can catch him, lead him, pull him around, run toys around him, brush him and pretty much torture him in a kid kind of way of course and it does not phase him. I bought this guy from an Amish family of 12 that owned him his entire life. He has been around kids all day everyday since the moment he opened his eyes. This pony was owned by a very nice family who cares and trains their horses and ponies with a kind hand and they give them the best care. This pony has never been mishandled, mistreated or passed around. I am his second owner in 9 years of his life. I have gone back and forth 1000x with selling this pony because I love him. My son just doesn't have the constant interest so I wanted to give another family/child a chance to own a phenomenal pony where he can get nonstop love and attention every single day. Little Britches has the best ground manners you could ever put on a pony and he has zero pony tendencies what so ever. Britches rides English, western, bareback, will jump, go over ground poles and he'll walk, trot and canter. Rides in a snaffle or a halter and lead rope. You can also put him on a lunge line. He has been all over our property, in the arenas, down the road, down the trail and yes you can pony him off another horse while going down the trail with your little one. This is the kind of pony you don't have to worry about and he will turn your little boy or girl into a rider. As a mother knowing you can turn your back for a minute here and there and not have to worry is everything. He is worth his weight in gold and that's why when I bought him I didn't care what he cost, I just wanted my son to be 110% safe and that he is. This pony is the most amazing addition to any lesson and or therapy program. He would be an absolute star in a therapy program and is definitely the kind of pony those programs dream about. Little Britches is very well trained to drive. One person can harness and hook him. He will stand like a statue and does not move a muscle until asked. My 3 year old can hold the lines and drive him by himself entirely. He has never been able to do that with any other pony. Does not shy at the road, cars, trucks, tractors or anything else you may run into going down the road. As an adult this pony is a blast to drive, I can answer my phone not even pay attention and he'll just keep walking at a slow steady pace or if I want him to stand I can ask him to stop and he'll stand there all day without getting upset or antsy. For the coolest part, this pony is trained to lay down on command!!! Be sure to check that out in his video! There is absolutely nothing I would change about Little Britches, I think he is perfection. Sells 100% sound, up to date on everything and has no vices what so ever. Barefoot with excellent feet and no founder. A very easy keeper and can live inside or out. He is use to other horses, ponies, goats, mini cows, chickens, ducks and dogs. You call his name and he will come right to you in a 2 acre field. Little Britches sells with all his tack including cart, harness, driving bridle, bit, lines, western saddle, saddle pad, girth, bridle, reins and bit. This is a complete riding and driving set. You don't need to buy anything. Everything is well made and stamped. Nothing is made in china. The cart and harness are Amish made right in Pennsylvania and the saddle was made in Texas. Everything is his and adjusted to fit him. If you're looking for the best pony ever Little Britches is the one you want!
Located in Allentown NJ 08501. Be sure to check out his YouTube video. Feel free to contact me with any questions.
---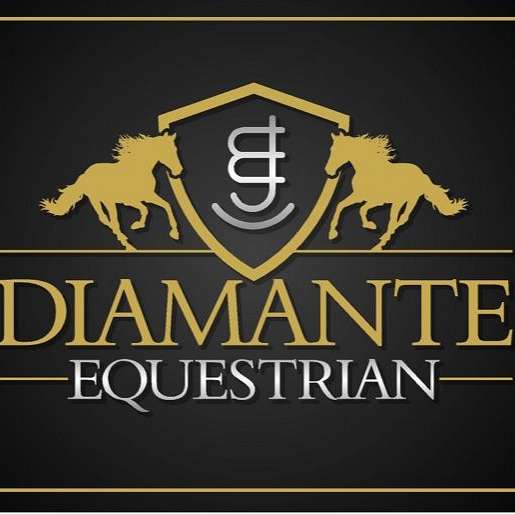 Diamante Equestrian Inc
Here at Diamante Equestrian INC we specialize in selling beginner/kid safe horses and ponies. We pride ourself in family safe mounts and try to keep our prices as affordable as possible. We stand behind every horse we sell. Our facility is located on 31 acres in beautiful Allentown NJ. Our barn consists of 22 large box stalls, 80x208 indoor arena with a sprinkler system and ground rubber footing, 100x200 outdoor arena, wash stalls and tack rooms.... (read more) Our facility welcomes all breeds and disciplines. We also have experience with stallions and bred mares. Our farm is clean and maticulously maintained. Visitors are always welcome and be sure to check out the horses and ponies we have for sale. We always have a nice selection of beginner and kid safe horses and ponies for sale. Some of our horses are not always listed for sale so even if you don't see what you're looking for we may still have the horse of your dreams standing in our barn.