Skills / Disciplines

Breeding, Color Producer, Import
Additional Comments
Proven broodmare who has delivered three foals for us. See details on our website at Top Hat Friesians dot com. Contract will have a right of first refusal clause.

ECHA-ESV, FSA BAROCK PINTO MARE

87.50% FRIESIAN BLOOD AND 12.50% DUTCH WARMBLOOD
15.3 Hands DOB: 04-27-2009
IMPORTED FROM DENMARK
DNA Tt / Ee (Heterogygous for Tobiano and Black. Red Carrier)

Nikita has a kind and gentle disposition and has a desire to please.... (read more) She is an easy keeper, has had three wonderful foals, and is a great mother. She was imported from Denmark as a weanling along with Picasso and Eike. Nikita has a wonderful temperament and is the peace keeper in the herd. She gets along with everyone. She's happiest when spending time with people and being outside. While some of our horses prefer being in the barn, Nikita would rather spend her time in the pasture and if you're out there with her, even better! Nikita has been started under saddle but will need to be brought back into work since she hasn't been ridden in almost three years. Nikita has had three foals and is an excellent mother with no problems conceiving or foaling out. Her price reflects the fact that she hasn't had a lot of time under saddle at her age.

At her ECHA-ESV keuring in Denmark, Nikita scored very well: Correctness: 8.0, Movement: 8.5 Overall impression: 8.0, Total: 41.5 Total Points. We have also dually registered Nikita in the USA with the Friesian Sporthorse™ Association in the Main Studbook.

Within Nikita's pedigree you find Samber on the sire's Warmblood side and such notable Friesians as Oege 267, Brandus 345, Rypke 321, Feitse 293 and Hearke 254 on her dam's side. Oege 267 is known as "The Hair Man" in the Friesian world because his offspring tend to have the thick long manes and tails that he was famous for.

Samber was the first and only pinto approved by the KWPN. In 1979 he passed his 100 day performance test with an overall of 160.2 points, which gained him an A pass. He successfully competed at ZZ level in dressage and Z level in jumping. His success wasn't an accident. His sire was Pericles, Ster, Keur, Preferent, Kern, Super-Premium, one of the KWPN's most influential, English bred, foundation Thoroughbreds. He was one of the few Thoroughbreds to receive Preferent status and sired over 2600 progeny. His offspring made excellent sport horses that excelled at both jumping and in dressage. While Pericles was best known as a dressage sire, he did some racing and jumping late in his career. In all he sired 12 approved KWPN stallions including Samber and is the maternal grandsire of Ulft.

Samber's dam was Tina D, KWPN Ster, Preferent, Prestatie mare who produced 19 foals, many of which also obtained Ster, Keur and Prestatie status. While Samber didn't sire any KWPN approved sons, he was popular in Germany and there he sired the approved stallion Sambucco B and a full sister Evelien. Bambucco B passed on Samber's genes to no less than nine approved stallions in Germany. Samber also sired Sambertino, Art Deco, and Karel. One of Samber's daughter was the dam of the famous Ed King Hill who had a successful show jumping career prior to tearing a tendon and having to be put down at the age of twelve. He left behind two approved sons and gained Prestatie status through his progeny. One of most famous successful descendants of Samber to date is the International show jumping sire "Utah Van Erpekhom" Landetto x Calemiro x Samber) who jumps with John Whitaker.
Shipping Notes
must ship in a box stall for long distances
---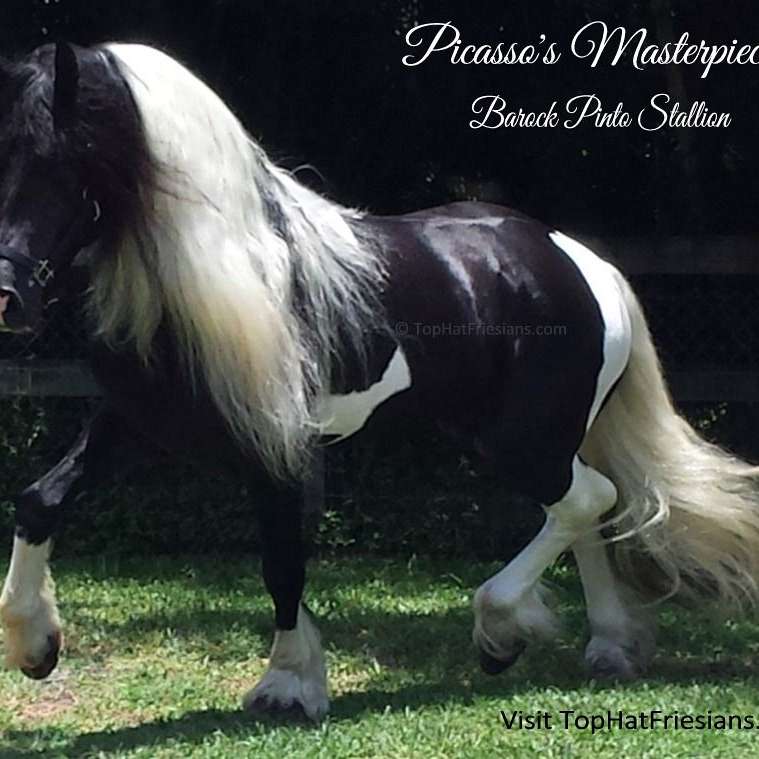 Top Hat Friesians and Barock Pintos
Breeders of KFPS Friesians and KWPN Barock Pintos