Skills / Disciplines

All Around, Athletic, Beginner, Gaited, Husband Safe, Lesson, Natural Horsemanship Training, Trail Riding, Trained
Additional Comments
2018 15.1H Grade Black Tennessee Walking Horse Mare - Has her Coggins done

Zevah is back on the sales list due to not having a consistent rider for this next year! She was ridden by my boyfriend for a year (advanced beginner) and now I'm looking for one with more spunk to challenge him a bit. Bought Zevah as a 2 year old as a project horse. Started her under saddle once she was 3 years old. She has had 8 months of full professional training in her first year under saddle and has been ridden and trail ridden almost every weekend from May 1st- October 31st for two years.... (read more) Zevah has been ridden by multiple different riders of all levels from beginners to advanced and has done WONDERFUL with them all. The whole family can ride her and she does what is asked of her. Zevah has been trailered to Zumbro Bottoms for 4 weekends and did great. She handled the hauls, tying, and meeting and seeing new horses all like she had done it her whole life! She is very beautiful and gets compliments on her looks all the time, correct conformation. I can not say enough good things about this mare. For a just turning 5 year old, you're lucky to find one with such a level headed disposition. She is worth her weight in gold! Boyfriend/Husband safe. She would be my first choice to throw my 70 year old grandma on her that hasn't ridden in years if she wanted to go for a ride. Zevah was started on a clean slate, she has no bad habits or issues. No buck, kick, rear, bite nor has ever offered while being here. She is not highly excitable or spooky and in the few times she had been when being started it was just a jump in place and wait for the riders response. She can sit for a week or two and be ridden out without issue. Zevah has comfortable gaits (except her trot which isn't asked often as she is gaited) and her canter is smooth as butter. Zevah is respectful on the trails. She has lead, followed, been in the middle. She isn't too quick on her feet and she isn't too slow. Zevah has the potential for anything that a gaited horse can do! She would make a great youth mount for someone that is experienced.
​Yes, she is grade and her price reflects her training, experience, and miles put into her. She also does NOT have to sell.

დ Has had no health issues & is sound.
​დ Has had 8 month of training put into her. At a W/T/C.
დ Trail ridden (2 years - has been ridden at Zumbro Bottoms).
დ Great ground manners, isn't pushy.
დ Patient, is not buddy sour.
დ Can be ridden bareback, bareback with just a halter/knot halter, or in a saddle.
დ Can swing up on her from the ground, climb all over her.
დ Ties - Has had hours of tying time - has been tied to the horse trailer, in the horse trailer, trees, hitching post, tied out overnight.
დ Lunges both ways.
დ Picks up her feet, stands great for the farrier!
დ Loads in trailer/hauls wonderfully!
დ Crosses mud/water (We have a creek they cross through every day with different levels of water).
დ Has had thorough desensitization and groundwork.
დ Has been desensitized to fire.
დ Doesn't mind traffic - Has been around 4 wheelers, loud trucks, mowers, farm machinery.
დ Has been ponied by a horse, atv, and has also ponied other horses.
დ Has been taught to step up onto, stand, and go over obstacles (mattress, tarps, bridge like objects, etc.)
დ Will walk over logs, branches, walk into and brush up against brush and long weeds/grass without issue.
დ Good with a fly mask (but will take it off occasionally).
დ Is pastured in a herd and is in the middle of the pecking order.
დ Has been stalled (Doesn't mind).
დ Can have music played while riding her.

More in depth information on our website (Spirit Creek Arabians) under our sales page. Please read her ad on our website and see her photos/videos before contacting as you will be redirected there for more information when messaging as well.
Shipping Notes
Buyer is responsible for transportation and all associated costs. Including Coggin's and Health Certificate. Cash only, no trades. Please make sure to go to our sales page on our website (Spirit Creek Arabians) for more information on purchasing horses from us.
---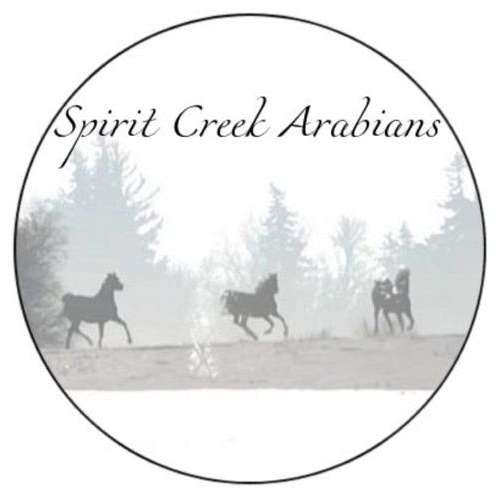 Spirit Creek Arabians
Breeders of classic domestic bred Arabians since 1992. Mainly breeding for Endurance, we pride our horses on having a wonderful disposition. They're athletic and have the potential for just about anything. Personally, we are not show breeders and choose to focus on the family friendly, all around Arabian horse. Please check out our website for upcoming horses for sale! We also offer training & riding lessons.