Skills / Disciplines

Athletic, Cross, Hypp Nn, Sporthorse
Additional Comments
Witten Creek Farm is now taking reservations for 2023 Friesian Sporthorse foals. All foals are sired by our 16 hh FHANA registered stallion, Vorn MFF. Vorn is sired by Doaitsen 420 Sport (Wander 352 x Reitse 272) and is out of Antsje RS Fan Top En Twel (Beart 411 x Nykle 309). Vorn's foals are consistently very upright, very correct, and have his outstanding temperament. Vorn is negative for all genetic issues, both Friesian and otherwise.... (read more)
Our foals are imprinted at birth, handled daily after that, and are exposed to a variety of different things in our program. All foals will be registered with the Friesian Heritage Horse Association and DNA verified to both parents. All foals will be microchipped and UTD on vaxx, farrier and deworming when they are picked up.

All of our mares have been specifically chosen for outstanding dispositions and for correct conformation. Our mares are all easy to handle and excellent mothers. When combined with Vorn's conformation and disposition, we are producing some outstanding individuals. Our goal is for athletic, confident youngsters that have had the best start possible in life, and that are set up for success in whatever discipline you choose. You can visit our FB farm page visit our website to see videos of all of our foals and some of the things we do.
Our buyers have the privilege of naming their foals, we just ask it start with "Witten Creek".

We have foals available from the following mares: (mares are NOT for sale)

Witten Creek Jeannie..16.3 hh full Percheron. Foal will be 50% Friesian, 50/50 chance of black or gray. Jeannie is due 3-24.

EB's Winnie..16.2 hh FHH registered. Foal will be 75% Friesian, 25% Percheron and black. Winnie is due 4-11

WCF Black Beauty..16.2 hh FHH registered.Foal will be 75% Friesian, 25% Shire and black. She is due
4/15. Edited 11/19..the filly option on this mare is spoken for

French Creme Frosty..15hh registered AQHA. Foal will be 50% Friesian and will be a buckskin. Frosty is due 4/20..edited 3-4-2023 …this foal has been spoken for

Witten Creek Maggie..16.1 hh registered Pinto Clydesdale cross. Foal will be 50% Friesian and either bay or black, 50% chance of being overo. Maggie is due 4/26

Swedish Command..15.2 hh registered AQHA. Foal will be 50% Friesian and either bay or buckskin. Swedie is due 4/27.

Edit11/15/22 this foal has been spoken for…Warbonnet Justice..15.3hh Registered leopard Appaloosa..foal will be bay or black, and could be spotted. Bonnet is due 5/15

Walkerbrae Yukon Goldie …18.2 hh registered Percheron mare. Foal will be 50% Friesian, black and big! Goldie is due May 20.

New for this year..we are taking a few gender specific reservations. We have the colt option available on the following two mares, the filly option has already been taken.

Edited 11/17/22…the colt and filly option on this mare have been taken. Amarins fan de Koarndyk..16 hh registered Friesian Maris is a daughter of Anton 343. She is due 5/22. Please note ..full Friesian foal is $8500

Pipe Dreams Ave Maria..16.3 hh registered blue roan Percheron. Foal will be 50% Friesian with a 50% chance of being a blue roan.

Please email or call for more info or to reserve your foal. Please note, the number listed is a landline, so no texts please. Also, if you have read this far, THANK YOU! I will edit the ad as the foals are reserved, so if it does not say "reserved"…it is available. We have foals from coast to coast and border to border.
First photo is a 2022 foal. Mares are pictured in order listed..along with some pictures of this years foals.
We will be breeding some of our mares to our registered Percheron homozygous blue roan stallion (the oldest one of only three known) for the 2024 foaling season.., for guaranteed black based roan foals. (Blue roan, bay roan, etc) Reserve those early..four of seven have been reserved already! Blue is pictured in the last photo at about 18 months. At 20 months, he stands 16.3 + hh.

Please note: due to the abundance of scammers and "bots" (whatever a bot is) please do not ask me to reply to your email by text message. We will talk via email until I decide you are a valid buyer or a real human. Please note also…The phone number listed is a landline, so please don't try to text it.
Shipping Notes
Buyer is responsible for shipping arrangements
---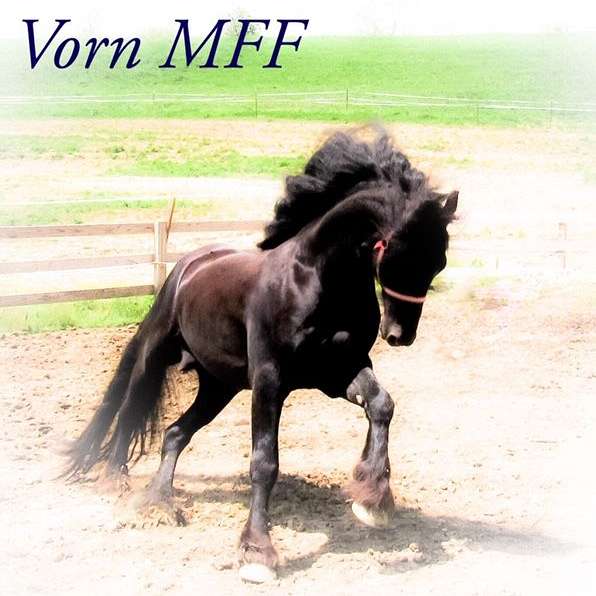 Witten Creek Farm
Raising quality Friesian cross horses. Our brood mares are selected for not only their conformation and bloodlines, but their attitudes as well. All are quiet, gentle and a pleasure to be around. All of the Friesian cross mares have been DNA parentage verified, and all of our babies will be Friesian Heritage Horse registered and DNA verified, as well as micro-chipped. You can be certain when you get one of our babies, that it has already been tested and verified.... (read more) We strive to produce calm, quiet and loving foals, that will be a true pleasure to work with. Daily handling and exposure to a variety of items help them get started right. We try to have each baby not only halter broke, standing for farrier, and loading in a trailer, wearing a pad and surcingle, as well as crossing cavelliti, crossing a tarp, and standing on and crossing a pedestal, We try to teach them to think about things and to trust their human partners. Our stallion, Vorn MFF is a son of Doaitsen 420, the USEF Friesian sire of the year for 2016, 2017, and 2018. Vorn's mother is a crown mare by Beart 411, the two time driving champion of the Netherlands. Vorn rides and drives. Vorn is also hydro and dwarfism free and five panel negative.. His first foals are on the ground and exceeding all expectations. We have sold babies from coast to coast. Vorn's get are all very people oriented, athletic and very intelligent. They are easy to work with, and for the most part, very quiet natured. For the latest videos of our babies and their progress, please visit our old Witten Creek Farm page on Facebook. (I have been hacked and can no longer access that page. Our new page is visit our website