Additional Comments
Registry Information / AHA / Registration number: *635073
2007 15H Purebred Grey Arabian Mare

Eljomar Gida "Luna"
Luna has been a broodmare for most of her life. Judging by her handling here, it seems she has had a lot of hands on and groundwork. Possibly was taught halter due to squaring up when asked and is quick to react to fast movements by her face (She throws her head up and acts like she is going to be hit).... (read more) She is a sweetheart, is very sensitive, gentle, and respectful. Not in your space unless you ask her to be. She was bred by Eljomar Arabians. Luna was started under saddle July 2022 but got her training pushed back due to client horses being priority. Luna has been started back under saddle September 18th and is coming along well. It will need to be known that if Luna is purchased as a personal horse and not a broodmare, that she may take a bit to warm up/bond and want to be in your space. She is more on the distant side but is starting to warm up and wanting to be worked with the more she is in training. This is just my personal opinion from what I have observed so far, and she may warm up quickly in a new home or it may take some time. I would believe she would be a completely different horse with her own person to dote on her in a positive way.

As far as training goes, Luna has had groundwork, desensitization, and a lot of tying time over this whole summer. She has consistently been worked with, just not in the saddle. I am now focusing on getting her going well under saddle (without pushing). She has not offered to buck, rear, kick, or bite. Is a little spooky yet but not overly reactive to anything. Stands well for mounting/dismounting. Is walking, turning, and stopping well. She has been an easy one to start and I'd say she will make a great trail horse or personal riding horse with a few months put into her. 10/26/2022 - Luna has had a month of training put in and is already out on the trails. Her first trail ride was 2 hour, very calm ride, even for a 20+mph wind day with corn stalks and leaves blowing everywhere. She handled it all very well. Luna has now been pretty forward under saddle and very willing. She rides out alone without issue. Has been worked with in the creek, in mud, and up and down hills. More videos of her out on the trail is on our Facebook Page.

დ Has had no health issues & is sound.
დ Has had a full month of training put into her.
დ Trail ridden - (Was taken down to Zumbro Bottoms and ridden for 3 hours on the trails on 10/29/22).
დ Has WONDERFUL ground manners, is respectful and is not pushy.
დ Patient, is not buddy sour.
დ Ties - Has had hours of tying time - has been tied to the horse trailer, in the horse trailer, trees, hitching post, tied out overnight.
დ She lunges both ways.
დ Has had thorough desensitization and groundwork.
დ Has been desensitized to fire.
დ Picks up her feet - Great for the farrier!
დ Loads in trailer​​
დ Has been ponied from on horseback and an atv.
დ Has had fly masks put on (Doesn't mind them but isn't afraid to take one off).
დ Has been blanketed.
დ Is pastured in a herd and is lower in the pecking order. Isn't aggressive enough to stick up for herself. Warns, but doesn't act.
დ Has been stalled (Doesn't mind).
დ Can have music played while riding her.

More in depth information on our website (Spirit Creek Arabians) under our sales page. Please read her ad on our website and see her photos/videos before contacting as you will be redirected there for more information when messaging as well.
Shipping Notes
Buyer is responsible for transportation and all associated costs. Including Coggin's and Health Certificate. Cash only, no trades. Please make sure to go to our sales page on our website (Spirit Creek Arabians) for more information on purchasing horses from us.
---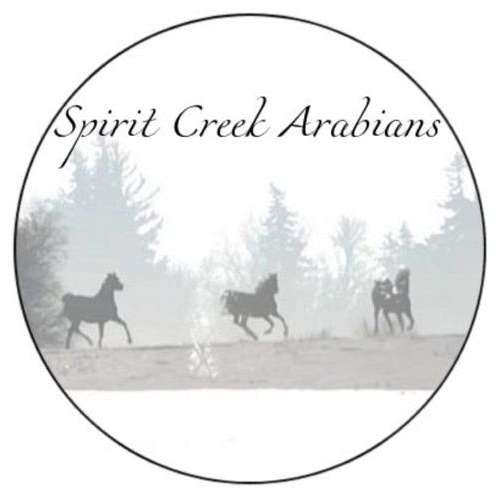 Spirit Creek Arabians
Breeders of classic domestic bred Arabians since 1992. Mainly breeding for Endurance, we pride our horses on having a wonderful disposition. They're athletic and have the potential for just about anything. Personally, we are not show breeders and choose to focus on the family friendly, all around Arabian horse. Please check out our website for upcoming horses for sale! We also offer training & riding lessons.