Skills / Disciplines

All Around, Dressage, Equitation, Hunt Seat Equitation, Hunter Jumper, Ridden English, Ridden Western, Trail, Western Dressage, Western Riding
Additional Comments
NEGOTIABLE! MOTIVATED! READ THE ENTIRE AD - It is my top priority to ensure Luke is placed in the most fitting home possible so he will remain happy and loved!

Luke is an off-the-track sweetheart that has been awaiting his forever home. He wears many hats well, and is particularly enjoyed by his trainer-assistant duo. He can step up for an ambitious rider to rise up the levels while simultaneously offering a pleasurable ride for the more casual equestrian.... (read more) His big movement matches his personality and is not for the faint of heart, as his canter will certainly take you where you want to be! He takes time to open up to new people but he blossoms into a glowing, affectionate puppy. He is a gentle, sensitive soul.

What is Luke like to ride?

Luke does best in a consistent routine and is happiest with capable riders and patient horsemen – a soft-spoken, balanced rider with a good, educated seat, and a caretaker that understands his wants, needs, and what it takes for a horse to truly thrive as himself. He does not need spurs, though is wary of whips, so we never ride him with one. He has plenty of motor but will remain as relaxed and steady as his rider allows. His performance is reflective of his wellbeing and happiness; when given plenty of turnout and playtime with other geldings, Luke remains ever the gentleman. However, his size, movement, and existence of many intermediate to advanced buttons can make him intimidating for beginners and has been overfaced, as well as had overfaced riders, in the past. He is currently in a professional program, has a correct dressage foundation, greatly enjoys riding in a hunter style, is started well over fences, and loves to hit the trail with friends. Acknowledging his past as a racehorse and therefore guaranteed tendencies of the breed and upbringing, Luke is mellow, down to earth, and uncomplicated for advanced riders. He needs someone he can trust, and will give that someone his entire heart.

What lifestyle does Luke need?

Luke should remain in a natural environment with other horses; one where he can find himself outside more often than in a stall. He is a great addition to any pasture and has contributed to mentoring and entertaining young horses that come through the program. He loves to play and enjoys company, always keeping himself active! He is freely fed Teff hay (nutritionally similar to Timothy) to remove food anxiety as he can be a resource guarder. He is very polite with mares and is best friends with another off-the-track Thoroughbred.

What makes Luke so special?

On top of Luke being stellar to work with on the ground – self-loading, hauling like a saint, and encompassing all expected manners like ponying, tying, easy for the vet and farrier, neck reining, moving off the leg and pressure, and bending for relaxation – he has an exceptionally unique expressiveness to him that is captivating to all who have met him. He has experienced major emotional and physical changes since joining the program in May of 2020 that we hope will carry on the rest of his life because they have truly turned him into his best self. He is talented, simple, and just plain fun to ride! Luke has been super for all of his outings – he makes it so easy to load up, go, and take advantage of the day. He always greets us with a nicker and knows that he is both heard and understood.

What are Luke's limitations?

Luke is not suitable for beginner or timid riders on a regular or daily basis, however, he is more than capable of packing someone around so long as his regular person uses good judgement. As educated as he is, he is not a "lesson horse type" and prefers his hand held as he is too intimidated when expected to fill in the blanks. Reflective of his rider, he can easily become strong and nervous if not relaxed and focused; that being said, he is overall a very soft, supple horse. He needs patience in every aspect and prefers a limited amount of riders. He has flash and scope, and his form has improved and organised over fences; it would be great to see him not pushed to his limits, as we don't expect him to move above 2'6-2'9 courses, however much we would love to see! His lead changes need polishing and we have tried a few different snaffle bits, though he also easily goes walk, trot, and canter in a halter, or bridleless, though his trust in his person is vital to his performance. He has no vices, though he is accident-prone to minor scrapes and bruises and is handled with care in his stall.

Diet, Nutrition, & Current Lifestyle

Luke has 24/7 access to free choice Teff hay and is given a flake of alfalfa with each meal in the morning and evening. He consumes the bare minimum amount of grain for his size - only one cup each of Cavalor Fiberforce, Biomane (Coat & Hoof), Nutrena Empower Balance, and Simplifly Fly Repellent Supplement, once per day. He goes out nightly (13 to 16 hours) with other horses and is entertained daily by his stall buddies, especially his best friend, a young OTTB gelding - they play all day! Luke has a healed bowed tendon on his right foreleg that does not affect his performance. Purely out of cautiousness and as advised by his vet, Luke is outfitted in SMBs or Lemieux Snug Boot Pro boots on his front legs instead of polo wraps while riding. He is wary of stall cleaners and does not like people reaching into his stall. He is much happier in open space and should always live in an environment that prioritises an outdoor and herd lifestyle.
Shipping Notes
Willing to ship! We have a trusted, reliable shipper and can provide a quote to serious buyers. Buyer must provide references, photos, videos, and all information needed to secure a perfect fit.
---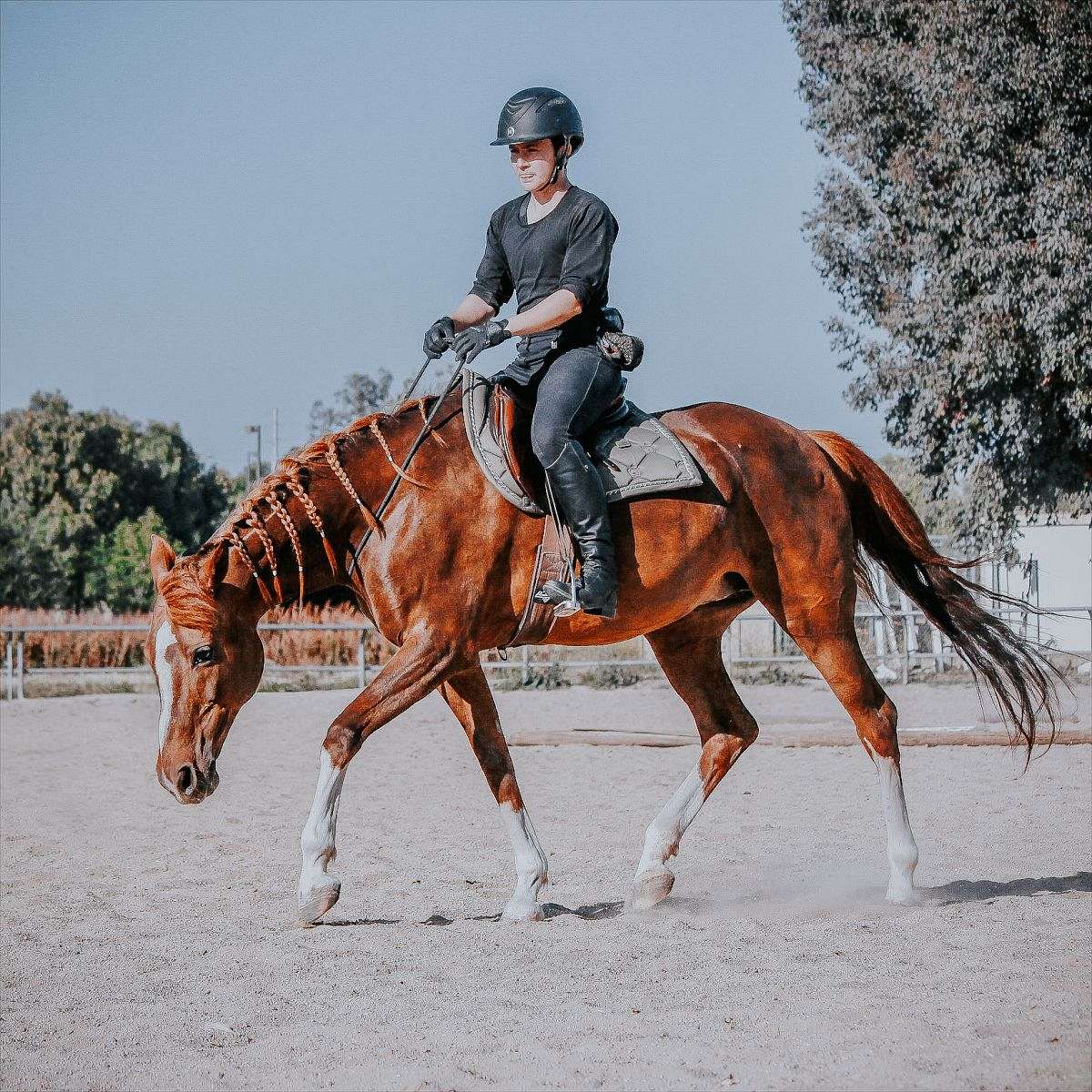 Meyer Horsemanship
Dressage, 3-ring jumping, rescues, 'problem horses,' and starting horses under saddle with incorporation of positive reinforcement and clicker training.