Skills / Disciplines

All Around, Beginner, Companion, Trail, Trail Riding, Western Riding, Working, Youth
Additional Comments
Luke Will Be Sold At The Best Of The west Horse Sale In Aiken South Carolina October 2

2016 Grade Gelding
14.2 hh Gray
Here is one awesome, loving, fun, all around horse for anyone to enjoy.

Luke is a grade horse standing 14.2 hands and is 5 years old. He is truly a gem of a horse and one that will put a smile on your face every time you go to the barn to see him. He loves people, and will come right up to you in the field.... (read more) You can hop on his back in the pasture and he stays just as relaxed and will take you for a ride right from there.

Luke has two different colored eyes, one blue and one brown. It makes him have that special look about him and makes him stand out in a crowd.

He is a joy to ride and you can ride him English or western and he has a nice neck rein too. He has three easy to ride gaits, and has a nice smooth little jog if you ask him to. He knows his leads and has a great rocking horse lope to him. He has been ridden on lots of different types of trails and in different terrain as well.

He will go anywhere you ask him to go and be brave about it giving his rider the confidence that they need. He watches where he places his feet and will go through water, over bridges and does great in traffic.

He has been trailered to different places and comes off the trailer the same horse no matter where we take him. He has been ridden out alone and does not get barn sour and will go easier into any place in a group, and does not mind if you want to ride away from the group as well.

He is used to all different kinds of farm animals, and does not mind meeting new ones as he is not a horse that gets easily upset at all. He is a horse that loves attention, but also does not get upset if you don't visit him everyday. He will always be glad to see you, and will be the same horse each time you get him out to ride him.

We have kept him out full time and in a stall as he does not have any bad habits and is a nice keeper in any place.
---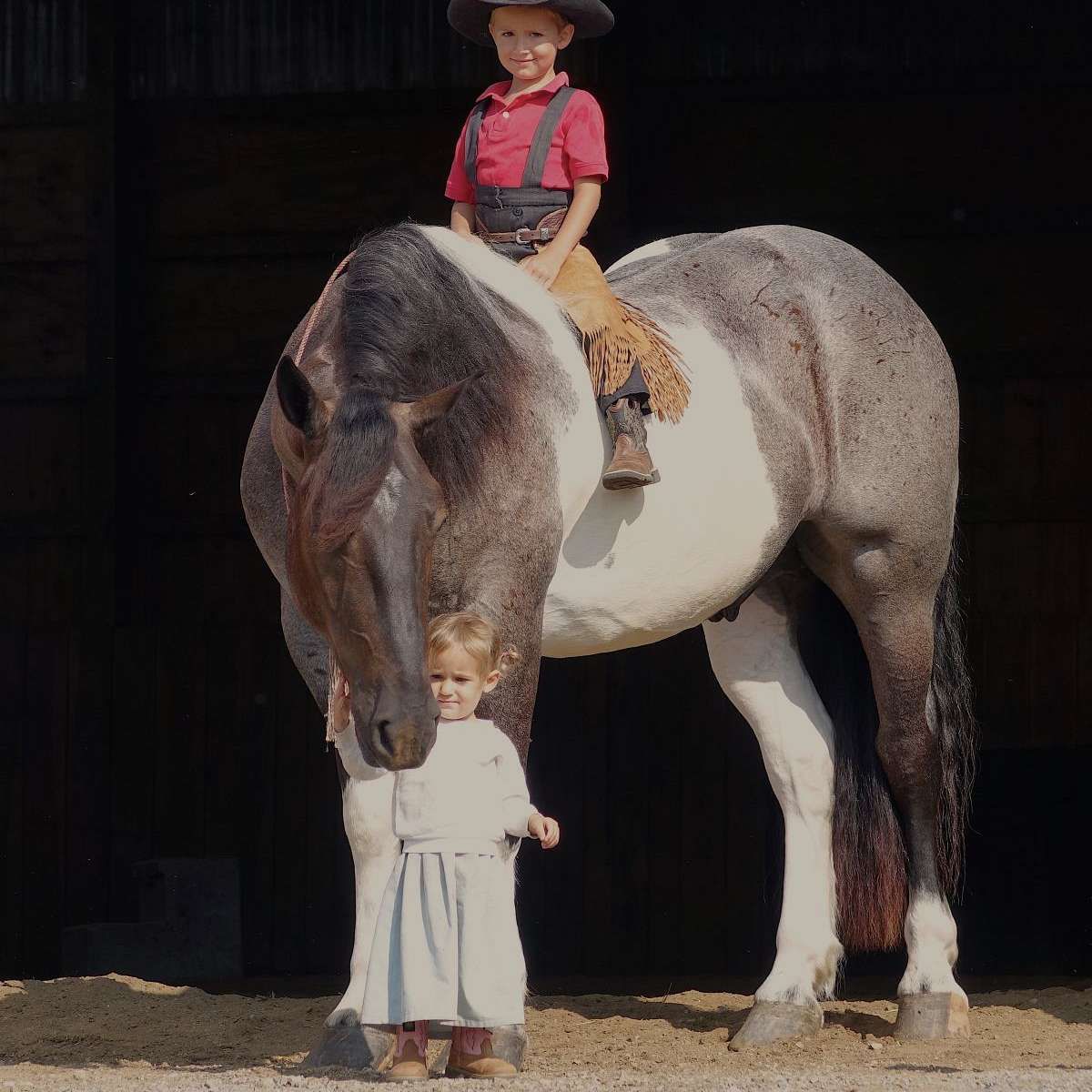 Buckeyeacre Farm
We specialize is very safe, sound, well trained horses that the entire family will enjoy riding. We have quarter horses and draft crosses that we take the time training them to make sure that they are safe, reliable horses for years to come for their new owner. We have been placing our well trained horses in new homes for over 15 years. We stand behind all our animals, and strive to find the best home possible for each horse.... (read more) We have been truly blessed that when our horses are ready to present and we place them up for sale, they do not last long, so if you see something you like, please do not hesitate to call so that you do not miss out on the chance to own own of these beautiful, sweet equine partners.