Skills / Disciplines

All Around, Beginner, Trail, Trail Riding, Western Riding, Youth
Additional Comments
Dinero Will Be Sold At The Best Of The West Horse Sale In Aiken South Carolina October 2

2017 Grade Gelding
15 hh Roan
We are excited to offer you Dinero!

Dinero is a registered Half Quarter Horse gelding that stands 15 hands and is 4 years old. He is extra special to us as we purchased him from the breeder and have done all of his training ourselves. He has been a breeze to bring along and loves to learn new things.... (read more)

He has a great neck rein and loves to do what you ask him to do with a willing attitude. He has three very smooth gaits and will suck it back for a good jog or he will extend out for a nice trot. He has that rocking horse canter that makes it so fun to ride.

We have had him on lots of different trails and he will go anywhere that you ask him to go. He will walk through the creeks, go over the bridges and is not scared of traffic.

Dinero has great sized feet that make him feel like a sturdy mount going through the woods. He has been kept outside and in the stall and does not have any bad habits at all. He loves attention and will stand quietly in the crossties for you to groom or bathe and does fantastic for the farrier and the vet.

With his beautiful red roan coat, you will be sure to get noticed where ever you take him. He has trailered to different places and no matter where we take him, he comes off the trailer the same horse. He has been around a lot of different farm animals and does not get upset when he sees new ones on the trail. We have ridden him out alone and in lots of different types of group settings and he settles in with ease.

We like to keep shoes on him all around because of where we ride him. If this is the horse that you have been looking for, please give us a call.
---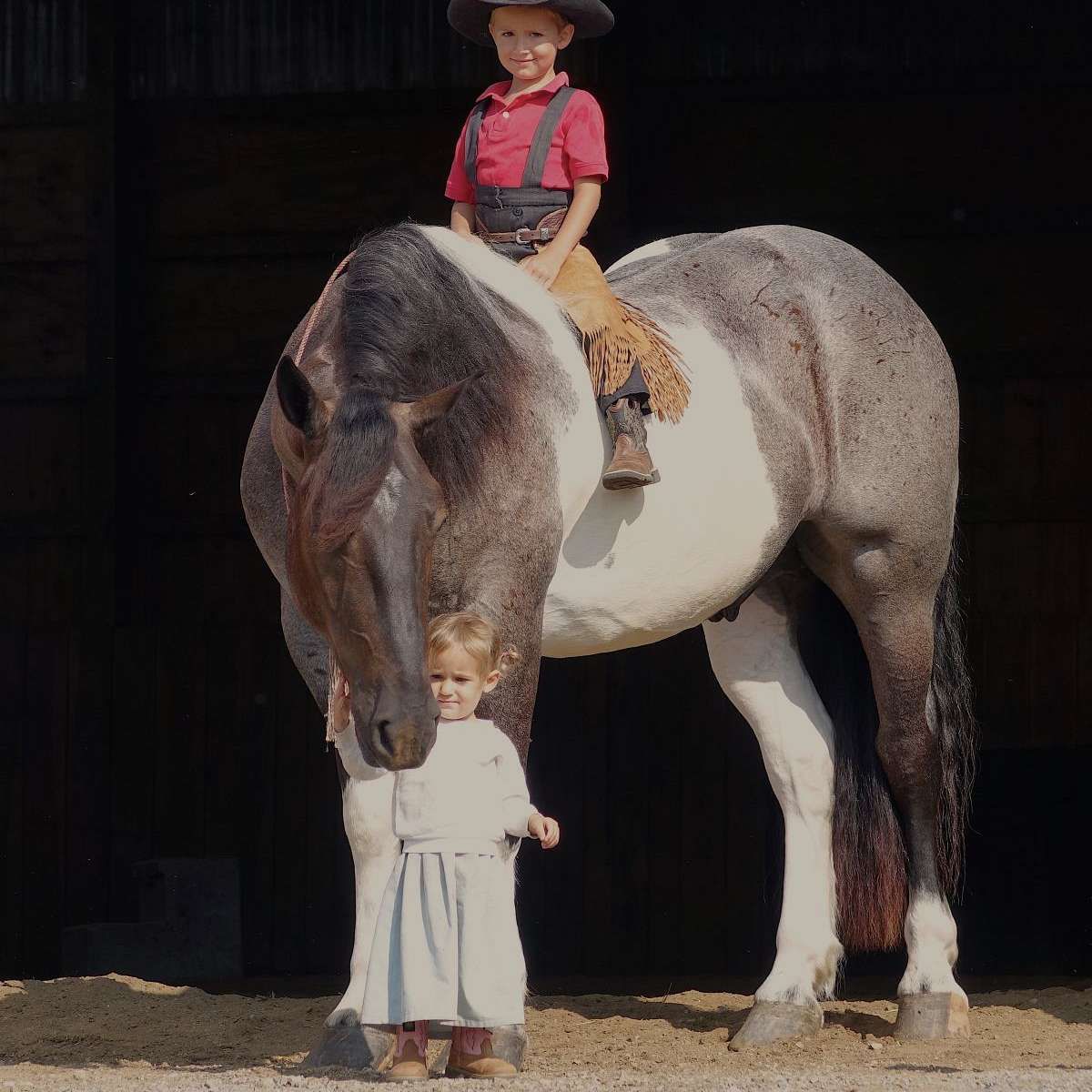 Buckeyeacre Farm
We specialize is very safe, sound, well trained horses that the entire family will enjoy riding. We have quarter horses and draft crosses that we take the time training them to make sure that they are safe, reliable horses for years to come for their new owner. We have been placing our well trained horses in new homes for over 15 years. We stand behind all our animals, and strive to find the best home possible for each horse.... (read more) We have been truly blessed that when our horses are ready to present and we place them up for sale, they do not last long, so if you see something you like, please do not hesitate to call so that you do not miss out on the chance to own own of these beautiful, sweet equine partners.