Skills / Disciplines

All Around, Beginner, Driving, Experienced, Finished, Dun Factor, Husband Safe, Kid Safe, Pony Club, Ranch Versatility, Ranch Work, Ridden Western, School, Trail, Trail Riding, Trained, Western Pleasure, Western Riding, Working, Youth
Additional Comments
Morticia is an adorable, 13-year-old, Brown Dun Fjord Crossbred mare standing at 13.3 hands. She rides and drives single and double. She's quiet with a sweet demeanor. You won't have any trouble getting on or off Morticia because she's just under 14 hands and stands still when your're ready to get on. When you ride her though, she feels more like a horse than a pony because she's built with a nice wide chest and butt. That's where the Fjord comes in.... (read more) She's comfortable riding in any position in the group - front, back, and middle of the group. Despite her shorter legs, she keeps up just fine with the bigger horses. Depending on the normal walking speed of the lead horse, she may have to trot occasionally to keep up, but unlike a many ponies, she has a walk that's more akin to the walking speed of a horse and a nice, comfortable little jog. Her ground manners are impeccable. We have video posted on our website of an 8-year-old little girl leading her in tight circles. At one point in the video, the horse has to actually pivot and spin on her hind end to stay at a respectful distance, avoid stepping on the little girl, and prevent the little girl from having to tug and pull on the rope to get her to follow. She's dog friendly, loads and unloads like a dream, and she backs well. Watch the video to witness her loading and unloading in less than 30 seconds! No hitching rail? No problem. Morticia ground ties as well. Kids and dogs are never at risk around Morticia. In short, she minds better than most kids and pets that I've had the pleasure of making their acquaintance.

Morticia would be ideal for vertically challenged riders, kids, senior riders looking for the perfect horse to write their final chapter, or riders with physical limitations which may make mounting a taller horse more challenging. She rides English or Western and looks nice under either tack. Riders needing to build or regain their confidence really appreciate Morticia as she is responsive to your commands but can overlook your mistakes and timidness. We put novice kids on her ages 10 and in our riding programs. Her ideal riders are up to 5'8" tall and weigh no more than 185 lbs. She is stocky built, so she isn't just for kids, which means this is a pony your kids are unlikely to outgrow so you'll get your money's worth! To give you some perspective, I ride her, and I'm 5'6" and weigh 130 lbs. So if you're looking for a horse for Mom, the kids, and their friends to ride, or for Dad or Grandpa to hook up and drive, she can be yours. At her age, she can easily entertain you and your family for at least another 12 years or more.

People always ask why we're selling our horses. There's nothing wrong with them. Quite the contrary. They're for sale because it's part of our business model: we buy, train, put lots of trail hours on them, and make them safe for beginners, and eventually we sell them at a profit to compensate us for all the training and trail hours we have put on them. We don't have to speculate as to what age or riding level a rider needs to be at in order to ride them. We KNOW because they've done it many times over. If we say a 6 year-old child with no riding experience can ride the horse, then they can - and have. And if we say we wouldn't put anyone younger than an inexperienced 10 year-old, then you shouldn't consider the horse for your 5 year-old to ride on their own. All our horses sell as sound with no vices. Many of our horses for sale are listed on DBF's Equine Now Farm Directory page, but to see all of our horses for sale, schedule time to come see them at Dead Broke Farm. Prices listed are firm.

Dead Broke Farm
6921 Wildlife Trail
Raleigh, NC 27613
9one9-323-1265

For anyone buying their first horse, we also sell new and used saddles, bridles, saddle pads, as well as new winter blankets, halters, lead ropes, and horn bags. The big advantage to buying these items when you buy the horse is that we will fit everything for you, so it takes the guess work out of sizing and fitting of saddles, bridles, and winter blankets. Then you can feel confident that the horse will perform the same at home as it did at our farm.
Shipping Notes
Will deliver for a mileage based fee.
---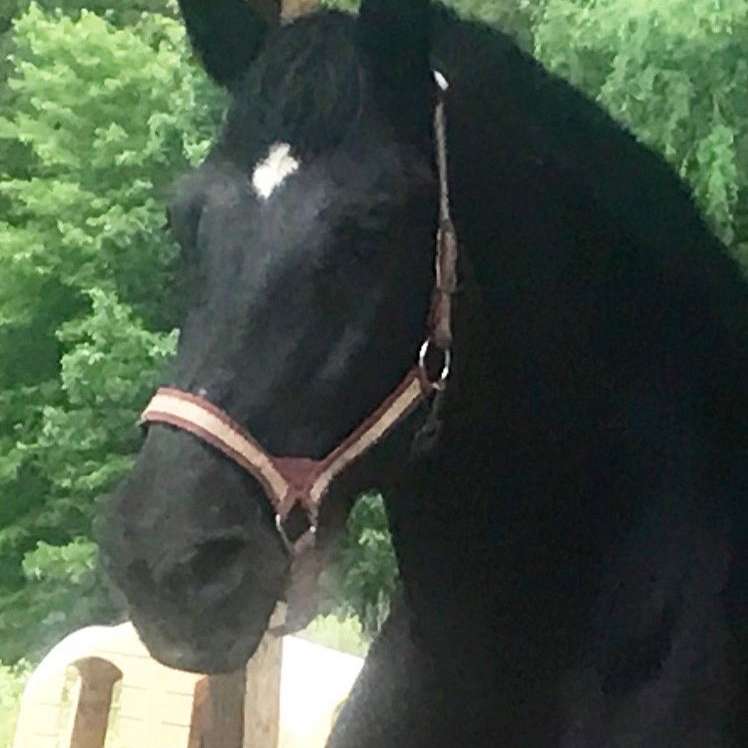 Dead Broke Farm
Dead Broke Farm is located in Raleigh, NC on 110 acres with over 10 miles of wooded trails. We offer guided trail rides, summer and track-out camp, western riding lessons, pony rides, birthday parties, and horses for sale.