Additional Comments
Gotham News is a 2010, chestnut gelding who arrived by way of Beyond the Wire in Maryland. This warhorse raced 50 times, making over $200,000. He is only retiring from racing due to the new age limit at the track. He is retiring sound, which we are inclined to believe as he's with a good trainer and connections who love him dearly. In fact we were sent several photos and a video of him before arrival (see below). We're told even after retiring, one of the riders in the barn kept taking him out just for the fun of it.... (read more)

While he is apparently a dream to ride, he was an intact horse til recently, being gelded at 11. Bruce was gelded surgically as he was thought to be a ridgeling, but turns out he only had the one testicle (we confirmed this with a hormone test two weeks later). At the track, and kept in work, he was a very good boy and he has quite the fan club who are wishing him well in retirement.On the farm, he has actually adjusted to life as a gelding very quickly. He currently gets turned out with 7 other geldings. He is a bit on the dominant side, but not a jerk. He lives in a barn with mares and hasn't reacted to them in a while.

Under saddle he has been a very good boy. He won't put a foot wrong, but he does need some education on how to use himself properly. We've had a ride or two where everything clicked and he stretched really nicely, so it's in there, but you'll need to coax it out. We have had our chiropractor (also a vet) work on him and she thinks he could use a few adjustments, whether he gets them here on in his new home. Just things very typical of a warhorse that need to be loosened up. This should really help him under saddle as well. We think he'd make an awesome pleasure/all around horse, maybe even low level eventing. He has no physical limitations but doesn't have the movement for the hunter ring.

Bruce is a professional for the farrier and vet and for grooming and bathing in the wash stall. He's sometimes touchy around his flank but he lets you know before reacting. He's no problem to tack up, mount, or ride for an experienced rider. He does crib, but an Intrepid collar pretty much puts a stop to it.

Bruce is available now for $1,500.
---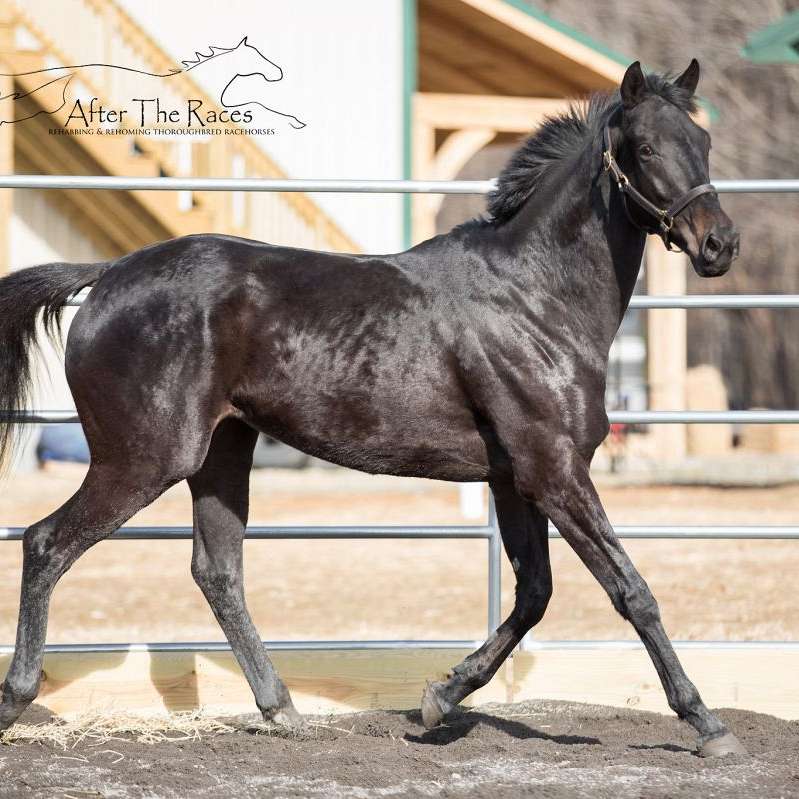 After the Races
A rehabbing and rehoming facility for retired Thoroughbred race horses, here at After the Races we have several nice OTTBs in need of great homes. Adoption fees are low and these horses are capable of going on to any discipline. Right now we have horses who would make fantastic trail or lesson mounts as well as those who could go on to high level showing. Many great projects. Please consider adopting today!